A new Gozitan dynasty in the making? Nadur mayor Chris Said talks about the emerging breed of Nationalist underdog, and the challenges ahead for his beloved Gozo.
Interview by James Debono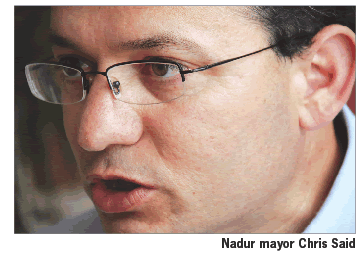 Nadur mayor Chris Said spells out the Nationalist Party's strategy in the next election. Instead of voting for another party, pale blue voters will be offered an assortment of new candidates as an alternative to the ageing line up of ministers.
"The PN is offering the electorate the chance to choose between those already in the existing team and new people who are joining the team. This offers a wide choice to the electorate. The greater the variety of candidates coming from different social backgrounds, the more the electorate will identify with the party."
Said also acknowledges that while "a part of the electorate will continue to identify itself with the established candidates" there is also a category of voters "who are not 100 per cent satisfied by what the established candidates have accomplished who will be given an opportunity to vote for new candidates."
It seems that Lawrence Gonzi has taken a leaf from former Japanese Prime Minister Koizumi, who in 2005 managed to sideline the Opposition by pitting a new breed of new candidates against the old party grandees.
As a sign of new times for a meeting with the Malta Hotels and Restaurants Association (MHRA), the Prime Minister was accompanied by backbencher Jeffrey Pullicino Orlando, Siggiewi mayor Robert Musumeci and Nadur mayor Chris Said.
Tourism Minister Francis Zammit Dimech was conspicuous by his absence.
PN General Secretary Joe Saliba revealed that this was part of a wider strategy to promote the PN's potential Cabinet line-up after the next general election.
Chris Said says that he was he was only invited to the meeting a "PN candidate."
"I was invited as a PN candidate for the next election. They informed me that various PN candidates will be invited for different meetings with stakeholders according to their expertise."
Although surprised at being considered as a potential minister by his own party, Said does not hide his ambitions for a Cabinet post.
"I always look at the next step," he says, describing his own life as "a series of accomplishments".
"I was involved in administration since I was young," Said says, pointing out that he was President of the Students' Council at Sixth Form, and elected President of the Gozo Football Association at the age of 21.
"After eight years in the association I decided to move a step forward because I believe that after a number of years working in a particular sector, one should move on to newer pastures to look for new challenges.  Now I have served as Nadur mayor for nine years.  The next step is to be of service to the whole country."
Said reveals that he will not be contesting the local elections in Nadur.
"If I am elected to parliament, I have a lot of energy and experience to serve in any post which is offered to me."
But is his ultimate aim that of becoming Gozo's new minister?
"Every Gozitan MP primarily works to improve the situation in Gozo. I believe that this is the best place from where one can give his best input to further Gozo's interests."
The Gozo Ministry is unique in the sense that it lacks any area of competence like justice and education, but at the same time involves itself in everything.  What is the use of having a Gozo minister?
"Experience of 20 years has showed that a  Minister for Gozo who sits on the Cabinet, and whose aim is to promote Gozitan interests in every decision taken, has paid dividends for Gozo. There is consensus among all three parties on this. The need for this Ministry is to ensure coordination between different Ministries for Gozo and to ensure a voice for Gozo which is vigilant that, in any decision taken, its implications on Gozo are considered."  
But is there not a risk that a Minister for Gozo, due to its lack of focus, degenerates into a source of favours and political patronage?
"I believe that this depends on the person chosen for the post. If the person chosen puts Gozo's interests first and foremost, Gozo will benefit. As in any other post people could abuse of their position."
The PN is desperately trying to show that people can vote for change without voting for the opposition parties. In the absence of a reshuffle, the PN is trying to present new faces. But what's so new about Chris Said's vision?
Said's national vision corresponds to the mantra being repeated from the PN Headquarters: "I believe the country needs to aim for new targets. Now we are members of the European Union and the introduction of the Euro crowns this achievement. We need to go further than that. I believe that only a new generation of politicians can steer our nation to become a hub of excellence in the Mediterranean."
But he adds that this leap in quality needs an injection of fresh blood.
"We have the potential for this and the new generation of politicians can make this quality leap."
Both Minister Giovanna Debono and Chris Said hail from Nadur, and for the second time are competing for the same pool of votes. If Said represents the new Cabinet line-up promoted by Lawrence Gonzi in Gozo, Giovanna Debono represents the breed of Ministers emerging under Eddie Fenech Adami. But Said pays homage to the established Minister but still insists that he can offer something different.
He says that he has an "excellent relationship" with Giovanna Debono who is always helpful when he asks for her assistance in his capacity as mayor.
"In the last election Giovanna Debono gained 6,500 votes – the highest number of votes gained by a Nationalist candidate after Prime Minister Eddie Fenech Adami. She has a big following. She works a lot for Gozo and people recognise this."
But courtesy apart, Said is aware that competition is harsh within the same party.
"We are rivals in the sense that we compete for the same votes. As happens in any other district, one faces a greater competition from within the party than from outside it, because one has to rely on the potential voters for the PN to get elected."
For the past decades the PN in Gozo was dominated by two political families;
the family of Speaker of the House Anton Tabone, and the family of Minister Giovanna Debono – the daughter of Coronato Attard who served in parliament since 1962.
"Giovanna's family has been in parliament for 45 years. The same applies to Anton Tabone's family whose father was also elected in parliament in 1962. Nobody in my family has been involved in politics."
Said recalls that he was very close to Giovanna Debono's father Coronato.
"At the age of 13 in 1982 I used to accompany Coronato Attard to parliament after the PN's boycott on parliament was lifted. It was at that time that I took my first interest in politics."
Despite lacking the legacy of a political family Said managed to get 1,323 first count votes in the 2003, coming in third place after Debono and Tabone. Yet in subsequent counts he lost out to Frederick Azzopardi, but still managed to surpass former MP Victor Galea Pace.
In what ways is Chris Said different from Giovanna Debono?
"I look at politics in a different way. I give more importance to Gozo in a more general way.  Giovanna has direct contact with constituents. She is constantly available to the people and this is a good thing. But I think that Gozo should be given more importance and decisions should be taken for the common good."
Said summarises his vision for Gozo in one sentence: "I want Gozo to run in the same way as we are running Nadur."
He speaks of the need of a new vision of tourism. "We need to decide on which niches should be promoted. We can no longer appeal to mass tourism as Gozo is a small island.  In the past years we did a lot to promote and encourage diving, even by creating new diving sites. But Gozo has a number of other potentials like agro and ecotourism. Practically nothing has been done to promote this sector. We need tourism which helps us to protect the environment. We can exploit our environment and agriculture to attract tourists."
For the past years Chris Said presented himself as an environmentally friendly politician. But since 2005, a company owned by his brothers; Said Constructions Ltd was in breach of planning regulations.
A few years ago, the construction company illegally converted an agricultural site next to Ta' Kenuna tower and a public garden into a storage yard for construction materials, debris and other heavy vehicles. When MEPA ventured to remove illegalities from this site, Chris Said's brothers Josef and Peter Paul Said even tried to stop the Mepa officials from their work. The MEPA officials had to seek police protection.
Chris Said offers no apologies for his brothers' misdeeds and goes on to reveal that he was the first to report the case to MEPA.
"I am revealing this today. I was the one who reported my brothers' company to MEPA's senior enforcement officer in Gozo.  I reported the illegal actions of my brothers' company. I am still in possession of an email I had sent to MEPA in 2005 reporting the illegality."
Said does not mince his words on the illegality. "This was something wrong.  It was wrong for them to put there machinery and trucks there. As from the beginning I made it clear to them that this was not right."
He denies any insinuation that as mayor he tried to put any pressure to favour his brothers.
"Neither I nor anyone in the council tried to delay MEPA's action. In fact MEPA has taken action in a relatively short time especially when one considers that other enforcement orders date back to 10 years. Fortunately now the whole place is planted with olive trees."
Said insists that he cannot held responsible for the actions of his brothers, who share the family nickname "tal-Ganga".
Said breaks with a tradition of nepotism and familism which marks Maltese and particularly Gozitan politics.
"I hail from a family of 13 children. I am the oldest. My youngest sister is 14 years old.  Generally we are a united family and we agree on many things. But I am not in a position to control the actions of my brothers. But I cannot be held responsible if someone in my family or anyone who votes for me does something wrong. As long as I don't use my office to protect him I cannot be held to answer for their actions."
Neither did he defend his brothers in his professional capacity as a lawyer.
"They did not even contest the enforcement notice so there was no legal case whatever."
Still, Said chose to offer his services to the owner of the farm on which the illegality took place.
"My brothers were not the owners of the farm who gave them permission to put their machinery there.  When MEPA wanted to force the owner of the farm to remove the dust which was left on site, I defended the owner of the farm who wanted to plant trees to cover this dust."
Said also defends the construction of the Nadur cemetery, a legal project which is also being carried out by his brothers' company.  The project was approved by MEPA in the absence the lack of an environmental impact amidst protests by the Nadur Cooperative that water passing under the cemetery would contaminate their crops.
"Surely Nadur needed a cemetery as Gozo lacks a central cemetery and every parish has its own cemetery.  In the case of Nadur the present cemetery is very small and lies in a residential area."
He insists that as mayor he always agreed with the cemetery but insisted that this should be done in the least harmful way to the environment.  
"Obviously a cemetery has to be located in an Outside Development Zone. The land chosen was not worked by any farmers. We made our research with the Malta Resources Authority and MEPA who gave us a guarantee that the cemetery will not affect the spring water. Subsequently, the farmers presented an injunction against the project and the two experts appointed by the law courts have decreed that the cemetery will not harm the natural springs."
Said also defends MEPA's decision to allow the development of 23 villas overlooking Ramla Bay instead of Ulysses Lodge.
"As long as the development is restricted to the area currently occupied by Ulysses Lodge, I agree."
When reminded that this Ulysses Lodge development is not entirely covered by building permits issued in the 1970s, Said insists that ideally the government should compensate previous owners and take back properties like Ulysses Lodge, which are clearly eyesores.
"Ulysses Lodge is an eyesore on Ramla Bay which has not been used for a long time. But in my opinion the design being proposed is better than the present eyesore."
Typically of PN politicians, Said rhetorically says that one need to "balance social and environmental needs."
He even goes on to say: "We cannot keep Gozo a crib ("presepju") and Gozitans are not figurines ("pasturi")".
But still he presents a vision of sustainable development. "Development must be done thoughtfully as we cannot kill the goose which lays the golden eggs."
He gives a concrete example of what kind of development he wants in Gozo. He speaks of a project in which tourists walking from Dahlet Qorrot will be able to collect oranges themselves from Wied ir-Rihan.
"We intend to apply to rehabilitate a small building once used as a crusher into a centre for agro-tourism where tourists can eat typical products. This will be an ODZ development but it will remove an eyesore and serve to attract tourists to a rural area. In this way we will be encouraging farmers to continue cultivating the land and grow trees."
He also mentions various other initiatives taken by the Nadur council.
"In Nadur, farmers had abandoned lemon trees as these were no longer profitable.  As a council we have encouraged them to take care of trees to produce 'limoncell' (a lemon-based liqueur)."  
He also boasts of the 7,000 new olive trees planted in the village.  
"We bought these trees in bulk and sold them to farmers who now take direct responsibility for them. That is why the countryside looks less arid in summer."
But when it comes to mega projects located in ODZ locations, Said is very careful.
"In all cases like the Nadur cemetery, Ramla, Ta' Cenc and Hondoq ir-Rummien one needs to strike a balance between development and the environment."
But at least he takes a clear stand against the development of more villas at Mgarr ix-Xini as proposed by the Ta'Cenc developers.
"I absolutely disagree with increasing the amount of villas in this area. Gozo needs a certain amount of villas to attract a certain category of high spending tourists. But surely there are other places where the impact will be lesser than at Mgarr ix-Xini."
Said is also confident that with the local plan approved, the lines where development are clearly delineated even if he makes allowances for projects which cannot be developed in residential area.
Neither is he surprised that Gozitan Bishop Mario Grech has recently lamented that MEPA gives permits to tourist development but denies permits for church projects.
"Everyone looks at things from his own angle. As  mayor I am  constantly bombarded by complaints about MEPA, not because it issues certain permits, but because it does not approve their proposals.  This shows that there is control."
During the past three years of local elections the PN registered heavy losses in Gozo.
He immediately points out that this was not the case in Nadur.
"This was the only council where the PN increased its vote by five per cent."
Said is also confident that the shift against the PN will not be reflected at the national level.
"The PN lost ground simply because PN sympathisers did not vote."
Now that he is not contesting for the local elections, will anyone from the Ganga family follow in his brother's footsteps?
"We are a big family. Not everyone in my family is interested in politics but some of  my younger brothers who are still studying could be interested in contesting the local election."
Said laughs off the suggestion that a new Gozitan political dynasty could be in the making.