OTHER NEWS
Jellyfish stinging our tourism prompt MTA action plan
Infringement procedures against Malta on EIA Directive
MEPA extends council's deadline for submissions on Hondoq project
Gozo today: poorer, greener, and Roman Catholic as ever
GRTU man denies using Euro info for his own venture
Santa Marija week, where is everybody?
British MP calls for probe into Mater Dei tenderer
---
Feature: STATE OF DISUNION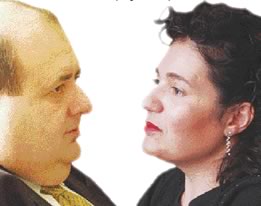 State of Disunion
The General Workers' Union has sacked its public service section secretary and president in a bloody and messy purge that has seen the union's militancy turned on its own officials. Karl Schembri interviews the two main protagonists and reports about the affair

Enough with Josephine

GWU secretary general Tony Zarb claims the union has been democratic all along the way in unceremoniously getting rid of Josephine Attard Sultana at all costs by Karl Schembri
Guess who's next in line

The acrimonious split with Josephine Attard Sultana goes back a long way – back to the tumultuous election and referendum year in 2003, with Tony Zarb at the forefront of the no campaign by Karl Schembri
---

---
THIS WEEK
Non Sequitur

"Theatre is theatre. People want to be entertained". Peter Busuttil has some firm ideas about Fabrika Fantastika's latest production, a Maltese translation of 'Waiting for Godot'.
---
Business Today on Sunday
Going for big: banking giants under the spotlight
Lombard Bank registers record pre-tax profits
Gaming's woes by George M.Mangion
---
MALTANOW is published by MediaToday of Vjal ir-Rihan, San Gwann, Malta
It is distributed free to all leading hotels, restaurants, bars, health clinics, public places, Air Malta club class and cinemas.
It is inserted free in Malta's leading newspaper MaltaToday on the first Sunday of every month