| | |
| --- | --- |
| Food | Sunday, 23 May 2010 | |
My verdict? GO | Rating 8/10 | Style 6/10 Trés chic for a hotel | Service 8/10 | Selection 8/10 Many great dishes to choose from | Steal-ability The risotto recipe
In the midst of the labyrinth of Paceville is a gem of an Italian trattoria which, if you have fine-tuned senses, you will find by the restaurant's aroma's alone. We thought we were lucky enough to find a parking place without having to enter the 'take's-an-hour-to-find-your-car-again' car park at Portomaso, but parallel parking right outside the front door must be testament to the strength of an anonymous friend's parking prayer (Hail Mary full of grace, help me find a parking place). 'Profumo di' has a refreshing and unusual menu, as we noticed on the board; and being welcomed at the door by a waiter, he emphatically told us what's different about this place: the cuisine is Genoese, which essentially means it is tangy and tasty.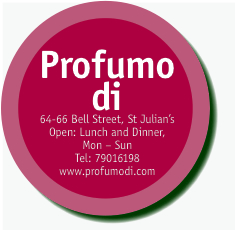 Making our way to our table, my short-haired friend and I exchanged glances at the sight of the handsome plates of generously stuffed squid at the table next to ours being enjoyed by two Italian chaps. Good sign. The waiter made sure we were comfortable and gave us colourful menus, explaining a bit about the specials which immediately tempted us away from the plates of the other table, and we opted for the seafood antipasto to share as a starter (€14), which came with delicious focaccia with rock salt, adding an addictive crunch. The seafood, served in giant lettuce leaves, consisted of marinated octopus (which I have to admit I go on and off of), and delicate cuttlefish in wine and ginger – a lovely combination: the ginger just tingling the tongue as an aftertaste, barracuda with lemon and red onions and crushed black pepper, salmon coated in three types of pepper, which took this mild sometimes tasteless fish onto another level; and then my favourite of them all, amberjack with grapefruit, which was warm, made the acidic zing of the citrus mellow, but kept its distinctive flavour. It was entirely obvious why the place is named what it is.
Scent is key to the chef. Indeed, some of the herbs they use in the kitchens are scattered around the restaurant and fill the windowsills, and with the windows ajar, the smell wafted in to remind you of the encompassing feeling of landing in Malta, the aeroplane doors opening and the heat and the smell bringing you back to memories and the comfort of being home.
Our next plates came – and the short-haired one had clouds of home-made gnocchi with pesto (€11). This was no ordinary pesto. Pungent, bright bordering on the luminous, and apparently picked in Genova and shipped here specifically by visiting friends and family of the chef patron and his team. I did have a bit more than my fair share, but we're old friends and fellow Scorpios, so I knew that she was generous. I reciprocated with my choice from the specials board, a grapefruit and orange risotto (€11) which was lick-your-lips divine. I urged the chef to put this on the menu – or at least the specials board every day. This unusual combination would draw in punters after a unique dish, and frankly should be advertised on a billboard, a banner behind a light aircraft, sky-writing and Facebook, and not just a modest specials board tucked inside this fine find, if you ask me.
The decor is simple but the lights are bit bright – the flavours and the quality of the food mean you could actually eat blindfold though – this could be a novelty factor that perhaps they should investigate. We seriously filled up on the pasta dishes, and decided to stop there. There is a good selection of mains on offer, meats, fish and a couple of vegetarian options, but lycra is so unforgiving. A couple of dishes did make me curse my choice of outfit – the stuffed pork, the schnitzel or of course there was that stuffed squid...
We stayed chatting a while, finishing off the Gavi (€16); usual girl stuff, clothes, boys and other girls and eventually egged each other on to try the desserts. Genova is where cake was in fact invented not too long ago, and as all on the menu are made by the father of the chef, we felt we had to try them... you understand don't you? We were tempted (mostly) by the tiramisù, which was light and not too strong on the coffee front, and the chocolate and almond cake, which I dare you to resist.
One thing I did fail at was the home-made (with brown sugar) limoncello. An unusual colour, deceiving like an Averna. Do not be fooled. It was lethal. Any more than one sip and I could have flown home. I had borrowed John's car though, and even with the airbags, with one more sniff even, I knew I wouldn't be safe. However, if you are feeling like a satisfying, taste-tastic meal, with a good people-watching vantage point, all you have to do is follow your nose.
---
Any comments?
If you wish your comments to be published in our Letters pages please click button below.
Please write a contact number and a postal address where you may be contacted.
---


Download the MaltaToday newspaper advertising rates in PDF format
---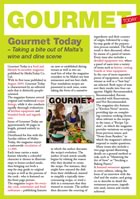 Download the Gourmet Today advertising rates in PDF format
---