| | |
| --- | --- |
| Monique Chambers | Sunday, 16 May 2010 | |
Even James Bond would have been tempted away from his usual activities, at the Essence cocktail bar at Golden Sands. We must have been under the influence of a dastardly wannabe world dominator, because we entered the holding area for the restaurant, which is cunningly disguised as a bar, and it was as if we had been hypnotised and drawn to perch on the stools, which are perfectly positioned to catch the sun setting while Austin, the most charming barman, talked us into trying his daily specials before we could say, well, anything.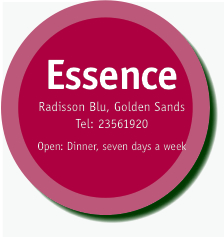 Apparently, the cooking methodology that defined the late 90s and made popular by the likes of my old neighbour, Heston Blumethal – dubbed 'molecular' – has reached the world of cocktails. It would have been rude not to try the Cosmopolitan (€8.50) with lemon vodka; imagine an alcoholic lemon meringue pie, in a glass... or the blueberry margarita (€8.00) which I chose as blueberries are so good for you (remember at this point we are under a more powerful influence and reality is far away). I did go a shade of green, not because it was too strong, but because the Cosmopolitan was out of this world. While French friend went to powder her nose, he snuck me a shot glass of the foam – whereupon I was caught red-handed and foamy-moustached upon her return. Matter-of-factly, she said we should have another, but being in my airbag-less car, decided against.
We were escorted to the dining area which had holidaying couples scattered around and one large table; first impressions were that the restaurant was too good for a work-type meal, or maybe I have just worked with the wrong types.
French friend ordered the Parma ham ricotta gnocchi (€7.50) and a portion that was enough for a small army arrived. There were a number of tastes; the chefs here must take ages preparing anything – so much detail. These for example came with rabbit rillettes and a salted ricotta and herbed broth.
Me being in a fish deficit, I opted for the seafood cannelloni (€8.50). Two generous tubes arrived smothered in fennel foam, with fleshy moist seafood bursting out; some scallops had escaped, but this just proved the quality of the ingredients. The taste was smooth and sweet, the seafood having that taut exterior, soft interior thing going on. Lovely. The bread basket offered a number of varieties and I chose a fennel roll, which, when torn, released the flavour and scent of the fennel which accompanies the seafood perfectly. Indeed, had this been my main I would have happily finished it off, but it was too big for me as a starter, and considering having to be a Bond babe in less than a week, quit there and then.
We had a Torres Atrium Merlot, which we knew would be good just from the look of it. Ruby red and shiny, with legs longer than French friend (€23.88) – really good wine, strange price tag.
She had ordered the local beef fillet (€29.50) with a ginger and coriander risotto cake which had tempted me, sherry vinegar and served with roasted vine tomatoes. And yes, roasting on the vine does make a difference, try it. I couldn't decide, the menu is detailed with a few dishes which encompass many combinations of ingredients and flavours – and a handful of interesting vegetarian options too. I wanted a bit of this and a bit of that so opted for the trio of meats with osso buco, veal sweetbreads and lamb cutlets which came with a smudgy plate and porcini, pak choy and new potatoes with morel juice (€32.50). I thought the mains were a bit expensive – not for the quality, just in terms of local pricing – but it was busy and does deserve a visit as a treat for your tummy, if not your wallet.
You could of course miss out on the main, have cocktails and starters only – oh, and dessert. These are huge. We took a while deciding – 90% seemed to be chocolate which is usually the narrowing factor. We were confronted with choices that made us salivate and we had finished the wine already (because of the drive home, stopped at one bottle; though considering the time we got home may as well have stayed at the hotel and spa'd off the damage in the morning).
We got down to a baked chocolate mousse which was promised with white chocolate ice cream (€8.00). This was not a loose mousse. It was harder than expected and quite difficult to get into, but the butterscotch taste made up for it. It was the size of a big man's fist and really, we should have asked for a doggy bag to take the remainder home. I ordered the crunchy peanut toffee bar (€8.00) which came with home-made, heavenly banana ice cream and a perfect halo of sesame brittle.
I no longer felt the evil presence of the dastardly dominator, nor any closer to being a Bond girl, but we had a lovely meal, a really nice evening and felt like we ruled the world heading into sunrise.
---
Any comments?
If you wish your comments to be published in our Letters pages please click button below.
Please write a contact number and a postal address where you may be contacted.
---


Download the MaltaToday newspaper advertising rates in PDF format
---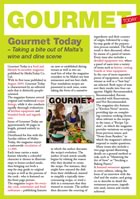 Download the Gourmet Today advertising rates in PDF format
---