| | |
| --- | --- |
| Mona's Meals | Sunday, 27 September 2009 | |
On Saturday morning I set off for the sister isle. Totally on my lonesome except for Magic FM's warbles, the journey was meant to take me to the place where I would interview one of Gozo's prodigal sons. As I struggled to adjust my eyes to the white sky where the wearing and non-wearing of sunglasses would prove futile either which way, my taste-buds started to awaken. I wanted breakfast. I wanted it now.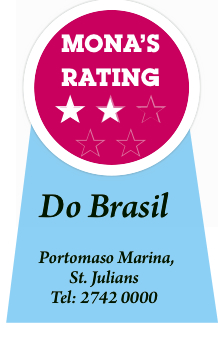 Now, except for when I am away, which is often, I do not really do breakfast. I usually have lunch at around 2.30pm. Yet in that car, with Simon and Garfunkel convincing me that they were drinking to me, Mrs Robinson, I did not want Jesus to love me, but to just produce a decent place where I could stop for some eggs – scrambled, an omelette – on the way. I also craved a creamy, slightly large cappuccino.
Try hard now, and let me know if anywhere on the coast road, through St Paul's Bay bypass, on the outskirts of Mellieha, you can actually get this most basic 21st century combination of food and drink. You cannot.
Due to this being a long-weekend, there were 37 and a half miles of cars the owners of which were gagging to get away from each other, all waiting in line. They would all, of course, end up in the same destination. Getting a cup of tea on the ferry proved to be another kerfuffle: the line took 20 minutes to get through and by the time I was holding the cardboard cup in my hand, we had arrived.
London, more than any other European city, although maybe not Vienna, does breakfast in a big way. I tried to book The Wolseley last week for a meeting and it had been packed for 8am for all of the previous week. Yet I could not think of a single bar or restaurant which could supply me with a couple of alchemised eggs on a Saturday morning. Stomach rumbling, I sat on the ferry and read AA Gill's homage to this restaurant, Breakfast at the Wolseley. It's a terrific and well-researched read, full of exactly the kind of thing you want to read at breakfast. The place is a wonderful success story, open from 7am in the morning, doing breakfasts, lunches, teas and dinner. It only closes for a couple of hours a night.
It is sad how cereals, the honest to goodness nutritional properties of which are tantamount to those of the cardboard box they come in, have taken over. You cannot really eat cereal in a restaurant without embarrassing yourself, although of course, many have tried. So you eat it at home. Because the proliferation of ball-shaped processed wheat has been so rampant, the demand for eating breakfast served by others, unless it is in a hotel, is nil. Or nil plus one, the one being me.
Lunch is not that easy either. In my PA days, booking the boss for lunch was a nightmare. 'I thought you were a restaurant critic!' he would say, expecting me to produce a restaurant (with parking, close to the office) out of the filing system. The Business Partner and me tried to do it, lunch that is, but it proved almost impossible if we were going to stick to the St. Julian's area.
We went to Do Brasil at Portomaso, where 'lunch' turned up to be a 'buffet' with more than passing recognition to what must have been left over the previous night. "No meat? No skewers?" I asked the guy who seemed to be managing. "I'm afraid not" he replied. "The oven needs at least an hour to heat up". We made our excuses and left, and he was kind enough to not charge us for the bottle of water we had already ordered and left there.
We schlepped it to I Monelli in the blazing sun. I Monelli is also open for lunch and dinner and on this occasion proved clearly why I had awarded them just three stars. The lack of translations in the menu meant that MBP ended up eating fried white toast stuffed with mozzarella, and my risotto was as dry as Egypt in October.
Therefore, if I wanted to review Do Brasil, I would have to do it in the evening, on a popular Saturday where the 'non-stop' skewers would be doing the rounds. I went with The Writer.
There were too few people sitting at tables. At 9.00pm on a Saturday, that's seriously worrying. I found out later that MBP was at Zen, up the steps, where it was equally empty. She and her man ended up having an equally abysmal experience, although for different reasons to us.
At Do Brasil, the one thing we did not do was Brasil. That is, I now know why they're so damn slim there. The system is simple: you help yourself to the buffet for starters, to accompany your main, and generally all the time. In fact, they sell you the idea that you can come and go a million times.
There's just one problems: very little in the buffet table enthused us. Most of the items were instantly forgettable, except for a few salad leaves, some pickled onions, and olives. We also had a deep fried Brazilian vegetable but no items are marked so I have no idea what it was called. It was also lukewarm.
Fine. Or not so fine. What really drove me mad was the 'meat' part of things. It works like this: if you choose the fish skewer, you get a whole skewer of stuff, all at once. This arrived soon after TW turned over his red/green disk (red for stop, green for go – geddit?). He had lampuki, a couple of king prawns, a piece of salmon and a piece of tuna. "And red, green and yellow peppers in between!" he piped up between a crustacean and some mahi mahi. They were acceptably good, as good as a grilled piece of fish would be.
My first 'skewers' arrived practically with his. It had sausages and chicken wrapped in ham on them, so I had one of each, thinking the rest would turn up soon. I was wrong. The flavour from the sausage, which, incidentally was really good, fatty and fragrant from fennel and the chicken, a kind version of angels on horseback, had to roam around in my mouth like someone I've just met on a dark night who will nicely stay there until my date turns up.
As it was, the date was bloody late. In fact, there was a fifteen minute gap between the first two skewers and the next ones. I was truly hungry by this time and TW felt a bit stupid for continuing to eat the fish on his own, waiting until my next skewer arrived, and his dish went cold.
This ridiculous state of affairs continued. I later had two chicken hearts – yes, chicken hearts, which are all of 2cm square in size. Fifteen minutes after this there were some well-marinated pork spare ribs. I was staring around so much between one piece of (very good) meat and the next that I'm wondering how come nobody was worried they had a live version of The Exorcist in there.
By the time we got to dessert, I was desperate for real food and had absolutely no interest in any of the sweets. The menu had promised a 'sweet trolley' but when we asked the waiter about this, he feigned ignorance and reeled the names of what he did have with even less interest than I had. TW had the vanilla and strawberry cake, which turned out to be dry sponge and artificial cream. The playing troubadour, tired from the requests from the floor (Besa me Mucho, Eric Clapton, Guantanamera), had packed and left. We had the bill, which, considering how much we had eaten and the general quality of the sides and desserts, not to mention the quantity I personally was offered, was gargantuan.
This restaurant has re-fashioned itself over and over in various nationalities. Within months, all of them closed. This one is destined to do the same thing: the management of a system of constant skewers depends on the place being full all the time so that half the produce is not thrown away or turned into (buffet) stews. If that isn't a Catch 22 situation, then call me Gisele Bunchen.
---
Any comments?
If you wish your comments to be published in our Letters pages please click button below.
Please write a contact number and a postal address where you may be contacted.