| | |
| --- | --- |
| NEWS | Wednesday, 26 August 2009 | |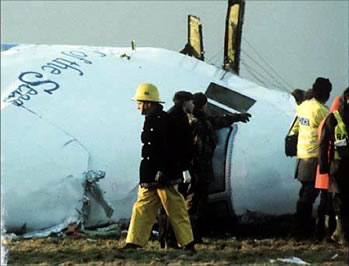 Richard Marquise
The release of Abdelbaset Ali al Megrahi last week, in the view of much of the world, was a miscarriage of justice. He will be able to spend his last months on earth with his family, something not possible for the 270 people killed when his terrorist bomb tore apart the jumbo jet bringing them home to their loved ones. Many relatives of the American victims have expressed their outrage that a duly convicted cold-blooded killer would be allowed to spend time with his family when they were never given that opportunity. The Director of the FBI, in a strongly worded statement to the Scottish Justice Minister expressed his outrage when he said, "your action makes a mockery of the rule of law…. (and) gives comfort to terrorists around the world…" Although the Scottish Minister says Megrahi was released on compassionate grounds, none was shown to the families of those who lost loved ones on Pan Am Flight 103.
Many, including some in Malta, doubt the strength of the evidence against Mr Megrahi and Libya. I hope to set that record straight.
Libya certainly had a motive. In April 1986, American planes bombed Tripoli in response for the attack on a German nightclub which had been linked to Libyan intelligence agents. Colonel Gaddafi's daughter was killed.
In October 1988, German police broke up a cell of a Palestinian terrorist group (Popular Front for the Liberation of Palestine – General Command) which was building bombs to be used against aviation.
Intelligence agencies believed the attack on Pan Am Flight 103 was in retaliation for the American downing of an Iran Air passenger jet in July 1988, which had killed 290. They said Iran had contracted PFLP-GC terrorists based in Germany to carry out the attack. However, the bomb-maker had returned to the Middle East and the leaders of the PFLP-GC cell were incarcerated.
Shortly after the US attack on Tripoli in 1986, a senior Libyan official asked a Libyan Arab Airline (LAA) employee about the feasibility of getting a "bag" onto an American or British flight leaving Malta. Evidence was elicited that the Station manager of LAA in Malta kept explosives in his desk.
Evidence found at Lockerbie identified a Toshiba radio which held the bomb but it was different to that used by the German PFLP-GC cell. Investigation determined the majority of these radios had been delivered to the same Libyan official who had inquired about putting a bag on a flight from Malta. The bomb suitcase most likely came from the Frankfurt leg of the flight.
Clothing found at Lockerbie had "made in Malta" labels on them. Several blast-damaged items had come from a shop in Sliema and the purchaser was identified as "Libyan".
Frankfurt Airport records showed that a lone bag had been transferred from Air Malta Flight 180 to Pan Am Flight 103 on December 21.
A small fragment found in a piece of Maltese clothing was identified as coming from a circuit board manufactured by a Swiss company. This board was traced to timers, only 20 of which were ever made. All had been given to Libyan officials. Megrahi maintained an office at the Swiss company.
Megrahi was identified as the purchaser of clothing found in the bomb suitcase.
Libyan officials attempted to purchase more of the Swiss timers in December 1988 but said a few days later they had what they needed.
Megrahi, using false identification, came to Malta on December 20, 1988 with the former LAA Station manager who had made notation in his calendar to "get 'taggs' from Air Malta for Abdelbaset Abdul Salam". He was described as carrying a "brown suitcase" similar to that which blew up Pan Am Flight 103.
Megrahi, in false name, departed Malta for Tripoli (16 hours after arrival) on the morning of December 21 – 30 minutes after the Air Malta flight left with the bomb suitcase.
Megrahi was a member of the Libyan Intelligence Service and lied repeatedly about his activities during December 1988 prior to being turned over for trial.
Megrahi was found guilty by three Scottish judges who had the opportunity to ascertain the credibility of each witness. His appeal was rejected. Megrahi dropped his last appeal in August 2009 although it was not required to be released on compassionate grounds. He returned home a "convicted man."
No evidence of any other country or individual was ever found. Other Libyan officials were involved but no evidence to link them to the attack was found.
Gaddafi admitted in 1993 to his country being responsible for the attack. He later paid $2.7 billion in compensation and accepted responsibility for the actions of his agents.
Lockerbie claimed many victims. Not just the 270 who perished on December 21, but, in a way, the people of Malta were also victimized. One senior Maltese official commented during the investigation that his country walked a fine line as Libya was both neighbour and trading partner. The Maltese police were exemplary partners in this investigation. It was always the hope of all the international investigators that others responsible for the Lockerbie attack would be held accountable on this earth.
It appears, with Megrahi's early release, that may not occur. We do know they will be held accountable in the next life and nothing can ever change that.

Richard Marquise led the US Task Force which included the FBI, Justice department and CIA, managing all aspects of the Lockerbie investigation. A terrorism expert, he wrote 'Scotbom: Evidence and the Lockerbie Investigation'.

PRINT THIS ARTICLE
---
Any comments?
If you wish your comments to be published in our Letters pages please click button below.
Please write a contact number and a postal address where you may be contacted.

All the interviews from Reporter on MaltaToday's YouTube channel.
---

European Elections special editions
01 June 2009
02 June 2009
03 June 2009
04 June 2009
08 June 2009