| | |
| --- | --- |
| Saviour Balzan | Thursday, 04 June 2009 | |
Saviour Balzan takes a fictitious trip around the political meanderings of MEP candidates Alan Deidun and Sharon Ellul Bonici
It all starts with a telephone call.
"Hello, is that Alan?"
"Yes, I am Alan Deidun. Who is it?"
"This is from the Office of the Prime Minister. Dr Gonzi would like to talk to you. Can you can find the time on Wednesday at 11am?"
"Of course, of course."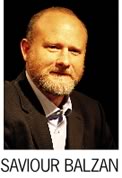 Alan hangs up and wonders what it's all about.
On Wednesday, he wakes up with a queasy stomach. It must be the excitement, he says to himself. He then drives to the PN HQ, walks in staring at the opulence around him, wondering how much was donated by which big contractor or businessman to allow for this extravagance.
Does it really matter, he tells himself? Seated on the big black leather sofas, he waits patiently. He looks at the abstract paintings on the wall. He wonders why the same artist never changes his style, and still gets exhibited in every government building or agency.
Then suddenly, the door opens and the Prime Minister walks in, his smile filling the room. Behind him; Paul Borg Olivier, followed by the pint-sized persona of Simon Busuttil.
"Alan, kif ahna?"
"Very well. Mr Prime Minister."
"Still writing about MEPA... heh-heh... and all those questionable permits... heh, heh, heh, heh..."
And Simon and Paul go, "Heh, heh, heh, heh, heh...." and after 10 minutes of absolute codswallop, the PM turns to Alan and informs him that the party would like him to stand as a PN candidate for the European elections.
Alan is shell-shocked and starts to cry with joy.
"I am honoured, but please allow me to consult with my family before giving you a definitive answer."
"Yes, yes, of course, but remember Alan: the country needs you."
Paul Borg Olivier peeps at Simon. They both know that the Prime Minister repeats the same thing to each and every potential candidate.
"Bye, bye, Alan."
The Prime Minister turns to Paul and Simon after Alan leaves, and tells them that this one is definitely in.
Simon asks: "What if he says something stupid?"
"It doesn't really matter, does it? After all he has little or no chance of getting elected!"
And all of them break into a giggle, "Heh, heh, heh.... tee-hee, zee, heh, heh..."
Two weeks later Alan Deidun is an official candidate of the Nationalist Party. He launches his campaign by organising a press conference at the proposed Ghadira road. One passer-by asks the journalists present, "Is this guy from the Greens?"
"No, he is a Nationalist candidate."
"What? Doesn't he know that his party wants the road, mela dan m'ahniex jew?"
In another part of Malta, far away, far away, there is a grey building with red aluminium pillars. Another candidate is waiting for a meeting with the Leader.
But this time her name is Sharon Ellul Bonici. Sharon, the great eurosceptic.
Sharon is, as usual, gracefully dressed. She waits on the pink plastic chairs in the waiting room. She looks at the decor in the room and wonders what it could take to make the HQ at Mile End a wee bit more welcoming.
Muscat walks by and asks her to follow him. He is accompanied by James Piscopo, the Labour party's CEO.
"Come in Sharon."
"Thanks for having me."
"So what can I do for you?"
"I would like to see what you really think about my candidature for the European elections."
"Well, it is not up to me to tell you what I think."
Joseph looks at her, grinning and trying very hard to keep his eyes to himself, and trying to avoid raising the question of her euro-scepticism.
"Will you guarantee that no one in the Labour party will work against my candidature?"
"No one under my command will work against your candidature. Isn't that true, James?"
"Of course, of course," James nods, looking so convincing his deceit takes both Muscat and Ellul Bonici by surprise.
"So what do you think about my chances?"
"Very good," Joseph replies, hoping that his tone will not give him away.
"Really? I am pleased to hear that. Because you know I have quite a budget for this campaign..."
"Good."
"Will there be any budget restrictions for any of the candidates?"
"No, not at all..."
"So, I can do as I please."
"Yes, you may."
"Thank you, Joseph, thanks so much."
Joseph closes the door and then talks to himself, as he looks out of his massive window onto the Nationalist HQ some 400 metres away.
"I only wish I had the balls to tell her what I really think. Nahseb blajna z*** kbir. James."
James looks on, not knowing what to say.
Thirty days later
We are in a radio station in Marsa, Sharon has hardly woken up. It's her turn to review the newspapers on Super One.
She reads something from a newspaper heading but then suddenly forgets about the subject and calls on hunters and trappers to remember that it was Gonzi who did not keep his word.
"Don't trust him. Trust me, I will fight to get you back hunting, yes hunting for birds in spring. And if anyone needs to contact me you may do so on this mobile number ********."
The incredulous technician behind the window screen looks at her and signals to her that mobile numbers cannot be given over the airwaves.
As soon as the programme finishes, her mobile starts to ring. The ringtone is the same, overplayed song by Coldplay.
"Hello."
"'Ello, is that Sharon."
"Iva."
"SHARR, can you explain to me how the **** you will bring back spring hunting?"
"Because I know that in Europe it is all a question of what you do and you do not do."
"Yes, but what will you do?"
"Eh, I will do what I have to do to allow you to practise your hobby."
"Prosit, but can you tell me what exactly you will be doing?"
"Eh, I will be doing what the others have not done."
"Which is?"
"Now please, you have to believe that I am capable of convincing the European Commission to bring back hunting to Malta."
"I see, tridx thallina Sharon. When you get me back my gamiema and summiena in Spring give me a ring. My number is *******."
Sharon is shocked.
Meanwhile, in another radio station, Alan is taking part in a studio discussion with two other guests. It is Radio 101. All participants are agreeing with each other, arguing that Gonzi is their man.
Alan interrupts.
"Let me tell you why I think the PN campaign is a success. First of all, our billboards light up at night and their billboards do not."
The other two guests look at him in disbelief. One of them makes a sign with his finger, tapping his temple to indicate that he is mad.
Alan tries to patch it up.
"No, that was a joke," and then goes on to say in Monty Python style.
"Just look at our billboards. In our billboards we are walking in one direction. We know where our direction is, and what success is all about. On the other hand Labour's candidates are simply posing on the lawn and going nowhere."
There is a pause and silence on the airwaves and one of the people in the studio lands his forehead on the table, and raises his hands over his bald patch.
We are completely f*****, he says to himself.

PRINT THIS ARTICLE
---
Any comments?
If you wish your comments to be published in our Letters pages please click button below.
Please write a contact number and a postal address where you may be contacted.

All the interviews from Reporter on MaltaToday's YouTube channel.
---


Saviour Balzan
A day in the life


David Friggieri
Transcript from a European election debate