| | |
| --- | --- |
| NEWS | Monday, 01 June 2009 | |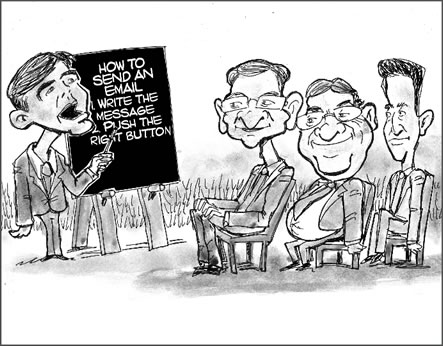 Electronic communication is evidently not the Nationalist Party's strong point.
Never mind the promise of Malta as a centre of IT excellence, the investment in mega-projects like Smart City, and the long queues for special offers on Microsoft products. When the microchips are down, the fact is that PN exponents – including those at the very top – clearly need a crash course in basic computer literacy: starting with the basics, like... how to send an email.
The first indication came when PN general secretary Paul Borg Olivier accidentally forwarded a confidential email to his counterpart in the PL – Jason Micallef – under the impression he was sending the message to Nationalist MP, Jason Azzopardi.
The email revealed details of a "secret" meeting between PN and OPM officials at the party headquarters in Pietà. Despite the initial brouhaha surrounding this indiscretion, nothing ever came of it and for all we know, OPM officials still regularly meet at the Nationalist Party headquarters, for all the world as though as the Office of the Prime Minister was simply an extension of the Stamperia in Pietà.
Now, a second email – this time inadvertently forwarded by Nationalist candidate Vince Farrugia – has once again embarrassed the party by revealing a shocking (and quite frankly unacceptable) gagging order on candidates regarding expenses on their individual campaigns.
In an answer to questions by another newspaper, Farrugia forgot to remove the instructions handed to him (and all the other candidates) by PN activist Stefano Mallia. In an interesting journalistic coincidence, identical questions were also sent by our sister paper Illum. The resulting answers were entirely comparable... and thanks to Farrugia's blunder, we now know that answers to both newspapers had been censored by the party.
A number of issues immediately spring to mind. On one level, this consistent lack of technological savoir-faire among PN exponents makes a complete mockery of the Nationalists' billboard campaign on "pushing the right buttons". If Vince Farrugia cannot be trusted to send an email without somehow getting it wrong... why should we trust him more than John Attard Montalto to "push the right buttons", when it comes to taking a crucial vote in the European Parliament?
But there is a good deal more to this issue than button-pushing. For this latest leak also reveals the remarkable extent of paranoia, whereby candidates were prevented from disclosing what should really be public domain information.
The PN's instruction in this instance is entirely unwarranted. Granted, some of its candidates may have exceeded the legal campaign expenditure limit – and congratulations are due to Edward Demicoli for his honesty in this regard – but at the same time, all parties are in agreement that this archaic law, which limits campaign funding to a mere €1,600 per candidate, is woefully inadequate in today's circumstances.
From this perspective there was no need for secrecy at all: no one in his right mind would even bat an eyelid to discover the limit had been surpassed... and by silencing candidates on this issue, the PN campaign organisers have only succeeded in raising additional suspicions regarding the precise extent of its candidates' pre-election spending spree.
But the most intriguing revelation by far is that the gagging order itself came from Stefano Mallia, currently an aide de camp in MEP Simon Busuttil's team. This finally dispels any doubt that may have existed about the issue: the Nationalist campaign for the European election is indeed authored and co-ordinated by Busuttil.
Meanwhile, if any further confirmation were still required, this was generously provided by PN candidate Alan Deidun, who yesterday declared at a meeting in Fgura that "Simon and his team" had placed their time and expertise at the candidates' disposal, and even briefed them about EU issues.
This in turn raises a number of uncomfortable questions for the PN. If Simon Busutil "and his team" are running the election campaign... where exactly does this leave general secretary Paul Borg Olivier? Regarding the expenses themselves: on what grounds does the PN's unofficial campaign manager, Stefano Mallia, justify issuing a gagging order on candidates? And why all the secrecy in the first place?
On all fronts – the silencing of candidates, as well as the apparent internal divisions within the PN camp – the episode further illustrates that when it comes to matters of transparency and accountability, the Nationalist Party appears to have become a prisoner of its own paranoia.
If Lawrence Gonzi wishes to reverse this trend, he would do well to introduce a long overdue policy of openness and transparency at the Dar Centrali Nazzjonalista.

PRINT THIS ARTICLE
---
Any comments?
If you wish your comments to be published in our Letters pages please click button below.
Please write a contact number and a postal address where you may be contacted.

All the interviews from Reporter on MaltaToday's YouTube channel.
---