| | |
| --- | --- |
| Mona's Meals | Sunday, 24 May 2009 | |
Local magazines are often accused of pandering to the advertisers' whims, of featuring only their products, of leaving out everybody else. I say 'pandering'. You say 'sucking up to'. What's in a few words?
The accusations are, in most cases, justified. Yet the process is thoroughly understandable. Those who do not advertise do not keep the magazines' accountants happy, and consequently, do not contribute to the magazines' existence. Without advertising money, there would not be any magazines. Or, in any case, any media.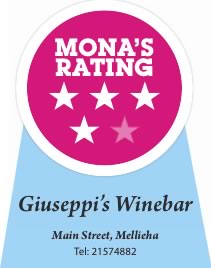 Our problem is that we think that this situation exists only in the local arena. Yes, we still think that Malta is the world's belly button and that life beyond our horizon is inexistent. The navel-gazing naïveté is staggering.
Take Grazia, for example, my absolute favourite weekly glossy, as all the Funs know. It is more rampant than a rabbit with fashion, gossip and, er, advertising. In Malta I view Grazia as the bee's knees, the mosquito's elbow, of fashion. In London, its home, the exoticism is lost.
Grazia is the holy grail, but on London's high streets, it becomes painfully obvious that it is the grail of the large shops, the chains, the ones with the budget to keep the bankers and the editors in dosh and changes of clothes. The bigger the chain, the fatter the budget, the more 'chances' one has of being featured in the 'buys of the week', the 'hot ten' or whatever. In other words, the blur between advertising and advertorial is not defined but redefined.
The oddball areas of London do not have the kind of shops that can take out four page pull-outs. Bringing these places to the readers' attention is left to the columnists and the writers who balance things out by featuring the ones that can't afford to advertise and sometimes dissing the ones who can. That is where we differ in Malta: the balance is practically inexistent. You do understand that this column is some kind of exception.
So, for oddball shopping in London, check out all of Portobello Road, starting from Notting Hill Gate down to Blenheim Crescent. On entering, you can stop at the antique jewellery shop on the corner (you will recognise it by its many spreads in Tatler and Vogue as well as testimonials by Sienna 'Who?' Miller) for vintage Chanel and Dior costume jewellery at half the prices of Paris.
Amble down to the market to buy cotton prom dresses at £25 (New Look has the same kind of prices yet offers a crap shopping experience), browse through the antique stands (again, selling crockery at half the prices of the local monti ones) and take a break at the Hummingbird Bakery. The best thing about this is the windows packed with pretty cupcakes and half-a-foot high cakes which taste of nothing but oodles of sugar.
I sat, sipped tea (there are just three tables outside) and watched the world go by while listening to a C-list celeb in the table next to mine twittering on about getting a permit to work in LA as 'Kate and Peter did'. I soon realised that Kate was Jordan and Peter was Andre, soon to be divorced, soon to get back together and soon to get remarried and have another OK! front cover and a spread.
Further down, the shops remain come-hither, the clothing quirky and the atmosphere superbly relaxed. You are now at the end of Portobello Road. Cross to Blenheim Crescent, stock up with spices at The Spice Shop, then cross once more for lunch at Books for Cooks where Mona's Meals: The Foodbook has already sold out, much to my embarrassed delight. I wonder who bought a copy.
In the evening, the West End is still a good buzz for some brilliant restaurants. At J Sheekey I plonk myself at the bar; it has two, and both are for eating, not just getting sloshed. This is perfect for solo dining, since you are always facing a human, interactive (if you want) being. A 70-year old man, accompanied by a man and a woman, introduced himself and was seated next to me. He gave me his card. I googled him on my iPhone and found out he's a Lord. He spent several minutes telling me I looked 'exquisite' and 'stylish' then told me about his companions: he used to be the female's lover, and now the other male is. They're all friends. The Brits and their crazy sex lives. Don't you just love them? Almost?
The choice of restaurants in London these days is staggering, recession or not. Back on the rock, it ain't. It is not just the multiculturalism that we lack (and we do, immensely) but also the nous to experiment with our own produce.
Michael Diacono is one of those people who translated his love of local into the semi-avant garde. He made cucina povera rich, stretching its perceived limitations. Yet something has gone out of the package lately - it's a spark short of a star.
In the restaurant itself, nothing has changed. Service is still the same: good, but not fabulous and with too many 'How was it?' thrown in for comfort. For regulars, it is homely.
I find it odd, for example, that for a restaurant of this calibre, no pre-starter freebies are forthcoming, and that apart from the (very good) Maltese bread on offer there are, as The Writer pointed out, commercially-produced peppered galletti. They were uninspired and uninspiring although of course, addictive.
The wine list is intelligent and treats punters with respect, being well laid-out. The mark-ups are humble. The 'specials', over and above the standard list, have been heard before, which makes them slightly less special, although a couple of items did shine out. The food cannot, in most cases, be seriously faulted and the current slide in enthusiasm-inducement is not something that a normal punter would pick up on. I'm not a normal punter.
My ravioli were dull and the sheets of pasta were too thick and clumsy to handle the minimalist butter and sage sauce. The Writer helped himself to the whitebait frittati. They were soft, flaky and very acceptable.
I was curious about the deboned quail stuffed with foie gras and wrapped in pancetta - when the portion turned up it was big enough to satiate the curiosity and overspill. Somehow, although all the elements were there, it did not scream 'wow' and gelled only up to a point. Foie gras, normally having the texture of cream and the buzz of champagne, had hardened slightly from so much heat. The stuffing of any meat has this tendency, no matter how much fat is in it.
TW had the baby calamari. They were fabulously chosen but the execution of the recipe lacked a specific point of interest; we were eating the kind of food that would be fantastic consumed outside, overlooking a beach with the sun blazing. In that kind of situation, simplicity is pleasant. The roast vegetables were wonderful and sweet from a blast of heat.
The lemon tart, which was zesty and zingy, offset this. And the sorbet accompanying my dessert was memorable and suffused with flavour. The desserts were quite wonderful.
Something very difficult to detect has died at Giuseppi's. Possibly, it is the fact that Michael is now having to split his time and energy between two restaurants (he is also running Rubino in Valletta) and thereby not being able to contribute that extra effort or peace of mind to either.
The food lacked soul and this makes me sadder than discovering that Top Shop is not the most wondrous fashion outlet in London, in spite of what 'everybody' else says'.
---
Any comments?
If you wish your comments to be published in our Letters pages please click button below.
Please write a contact number and a postal address where you may be contacted.
---


All the interviews from Reporter on MaltaToday's YouTube channel.
---
EDITORIAL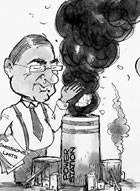 What governance?
---
---