| | |
| --- | --- |
| Films Review | Sunday, 24 May 2009 | |
I have no real desire to see Angels and Demons. It probably breaks some unwritten rule of filmcriticship, but to be honest, deciding to give the latest Dan Brown adaptation a miss strikes me as a most intuitively sensible choice, given that there is a recession on and that we're all going to die one day, a fact that leaves us as hard-pressed for time as we are for cash.


Reputations and second-hand opinions can be as odious as comparisons, but none of us can deny that we depend on all three of these admittedly noxious cultural phenomena as instinctive defences against the pitfalls of bad taste. And in the case of anything adapted from Brown's oeuvre, the hype is about as blaring as the booming, baroque music score they used for the ending credits (I was subjected to this sub-John Williams cacophony as I waited for an earlier screening to finish). Surely, given all the promotional material we can digest or are made to digest on a franchise like this, we can decide for ourselves whether or not it would be to our taste and even, perhaps, determine its intrinsic quality? "But how can you know whether you like it until you've watched the whole film?" I'll let Oscar Wilde rebut for me (a useful rhetorical tool if there ever was one): "To know the vintage and quality of a wine one need not drink the whole cask."
In my desire to avoid Tom Hanks sporting that hairdo, amongst other reprehensible traits one would come across in the aforementioned Church-conspiracy yarn (they've tarnished Ian McKellen's reputation, need they devour Ewan McGregor as well?!) I was quite pleased to find that Coraline, a stop-motion adaptation of the beloved Neil Gaiman kids' book (by Nightmare Before Christmas maestro Henry Selick, no less) is also out and thanked the lucky stars for what looked like a narrow escape from brash philistinism. But the dreaded lacunae called Scheduling Conflicts managed to pull the proverbial rug under my feet, leaving me stumped as to what would be the best way to avoid Ron Howard's sophomore effort with the cinematic adventures of Professor Langdon (I'm running out of synonyms for 'Angels and Demons', can you tell? Think it's a sign that I should stop complaining about a film I haven't even sat through). So what now? I thought. A few years ago I found myself in a similar predicament and was rescued by Robert Altman's unassuming but, believe it or not, relaxing The Company. But Altman has since died, and I doubt that a mainstream cinema would have any time for quiet little naturalistic masterpieces at the cusp of the summer season. 17 Again wasn't an option, neither was Dragonball: Evolution. Resigning myself to look for what seemed to be the 'least offensive', I decided on The Young Victoria. In that respect, it didn't disappoint.
The film, helmed by virtually unknown Canadian director Jean-Marc Vallée and overseen by Sarah, Duchess of York ('Fergie'), chronicles the early years of longest-running monarch in English history, specifically focusing on the events leading up to and closely following her ascension to the throne. But as befits a lavish period piece, more intense concentration is placed on her romance with Prince Albert (Rupert Friend). Emily Blunt (My Summer of Love, The Devil Wears Prada) is charged with playing Victoria as an 18 year old, still miles away from the sour, lumbering lump of prudery that enunciated "we are not amused" and mourned for the death of her husband over the latter half of her life. One would expect a less lugubrious figure to be presented in the film…however, this is one of those costume dramas that conveniently forget that oft-quoted adage about the past being a foreign country and them doing things differently there. Look at how Victoria, of all people, pouts and huffs rebelliously as her mother (Miranda Richardson) and her Comptroller, Sir John Conroy! Marvel at how she disdains corruption and the mistreatment of the poor! This is history, but not as you know it, kids! And sadly, the first half of the film offers very little to with which to counter this facile approach. Blunt is simply not convincing as the legendarily severe queen (young or not), and plays her like a smitten teenager in the noughties. She could have at least made the effort to play her as a smitten teenager in the 1830s. Still, one gets the feeling that this isn't entirely her fault: her CV boasts two more characters from British royalty, both from varying periods of history: the warrior-queen Boudica and Catherine Howard, Henry VIII's fifth wife. And in fact, things get slightly better after the coronation: as our protagonist is allowed to shed the annoyingly common-denominator-accommodating teenage persona to make way for a more pleasingly assertive character, we feel that Blunt herself is liberated as well. Naturally, this also means that the romance can get underway, and despite their emotional anachronism, Blunt and Friend make for an endearing couple. What in fact ensues is a Disney experience, and I mean this in the best possible way. While liberties are taken with character traits and attitudes, the political facts are more or less untouched, so we can suspend disbelief enough to enjoy the relatively simple court romance played out by attractive and promising leads. Add some intrigue in the form of the mildly cynical Lord Melbourne (Paul Bettany), who mentors our Victoria on ever-knotted political matters, and outright villainy of Conroy (played with stentorian panache by Guy Ritchie regular Strong) and you have yourself a recipe for a perfectly pleasant evening of escapism.
All things considered, it really could have been much, much worse. More naively enjoyable than Angels and Demons, no doubt.
---
Any comments?
If you wish your comments to be published in our Letters pages please click button below.
Please write a contact number and a postal address where you may be contacted.
---


All the interviews from Reporter on MaltaToday's YouTube channel.
---
EDITORIAL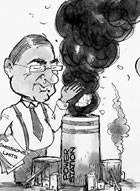 What governance?
---
---