| | |
| --- | --- |
| News | Sunday, 12 April 2009 | |
BirdLife Malta will be joined by 52 international ornithologists and volunteers from eight different countries in its second ever Spring Watch camp.
The camp, with participants from Malta, Italy, the United Kingdom, Denmark, Germany, Finland, Sweden, Australia and Belgium started yesterday and will run till the 26 April with teams carrying out monitoring from public vantage points in several localities in Malta and Gozo.
The international participants will be joined by Maltese bird watchers to monitor and record spring migration, and report illegal hunting and trapping incidents to the police.
Morning watches, evening watches, and even night watches in the event of a large roost developing, will also be organised.
Malta is on one of the three main migratory flyways used by birds to travel between their African wintering grounds and European breeding grounds. During spring, those birds which have survived the previous migration and the wintering period in Africa travel thousands of kilometres to return to breed in Europe.
The birds are particularly vulnerable during this period and must overcome obstacles like deserts, mountains, the sea, predation and lack of food to mention but a few threats. Protecting the birds on their spring migration is important as these birds are the survivors of the bird world and form the stock from which future generations of birds arise.
Spring Watch is one of several activities organised as part of BirdLife International's Flyways campaign. As part of the campaign BirdLife partners from 70 European, African and Middle Eastern countries will be focusing on protecting migratory birds along the African-Eurasian flyway for the coming four years.
---
Any comments?
If you wish your comments to be published in our Letters pages please click button below.
Please write a contact number and a postal address where you may be contacted.
---


All the interviews from Reporter on MaltaToday's YouTube channel.
---
EDITORIAL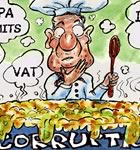 An explanation required
---
---