| | |
| --- | --- |
| News | Sunday, 12 April 2009 | |
A tax exemption announced in last year's Budget for gainfully occupied women who were currently employed and had children since 2007, has been capped to €2,000.
Finance Minister Tonio Fenech was answering a question by Labour whip Joe Mizzi.
The incentives announced in the Budget were: a one-year tax exemption per child under 16 for all women returning to work after having been absent from active employment for at least five years; and a one-year tax exemption for women either currently employed or who were not absent from active employment for more than five years, and who had children since 2007.
The incentives will be triggered once they resume work.
Fenech said that women who had children since 2007 and resumed or started working from that date onwards will be entitled to a maximum tax exemption of €2,000 a year. The first exemptions will be applicable from the 2008 base year, to be included in the June tax form.
Fenech added that the legal notice is expected to be published shortly, with details published on the inland revenue department's website.
---
Any comments?
If you wish your comments to be published in our Letters pages please click button below.
Please write a contact number and a postal address where you may be contacted.
---


All the interviews from Reporter on MaltaToday's YouTube channel.
---
EDITORIAL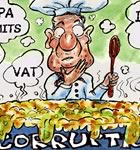 An explanation required
---
---