| | |
| --- | --- |
| News | Sunday, 12 April 2009 | |
The US embassy has stated the Ta' Qali crafts village is not an issue of concern for its impending move to Ta' Qali, quelling rumours of an interest in the area.
With a purported move over to the drydocks Dock No. 1 having raised the ire of various establishments in Ta' Qali, rumour had it the US embassy was interested in seeing the back of shop owners due to logistical and security issues.
No official list exists of people who have a right to be operating out of Ta' Qali crafts village because rents had gone unpaid for a number of years, Finance Minister Tonio Fenech recently told Parliament.
Fenech said this was why he had said last week that officials of his ministry and Malta Industrial Parks would be visiting the crafts village to identify those who still had a right to operate out of the place.
But a spokesman for the US embassy said it the crafts village was not an issue:
"The location of the Ta' Qali crafts centre has not been an issue of concern for the embassy. On the contrary, we are looking forward to our move to Ta' Qali next summer, and are committed to being good neighbours to the others, both individuals and businesses, who call the area home," Eric Catalfamo told MaltaToday.
An exercise to determine the exact number and identities of the enterprises that currently have a right to operate from the crafts village is taking place over the next few weeks by officials from the government.
---
Any comments?
If you wish your comments to be published in our Letters pages please click button below.
Please write a contact number and a postal address where you may be contacted.
---


All the interviews from Reporter on MaltaToday's YouTube channel.
---
EDITORIAL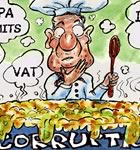 An explanation required
---
---