| | |
| --- | --- |
| Karl Schembri | Sunday, 12 April 2009 | |
Na'alin to Jerusalem – There is Friday and there is Friday. There is Friday in Na'alin, where Palestinians gather out in the fields on a sunny afternoon, under the olive trees instead of the mosque, to say their prayers, before marching on peacefully towards the separation wall being built around their village, cutting them off from the rest of the West Bank and robbing them of their land in the process.


In this village alone, around 250,000 square metres of Palestinian land comprising farms and houses are being robbed as they will fall on the Israeli side once the wall is completed.
Like their compatriots in the nearby village of Bil'in, the villagers here on the outskirts of Ramallah have been holding this weekly protest against what they call the "Apartheid Wall" and what Israel calls a "security fence".
Joining the villagers are dozens of Israeli peace activists and foreigners who, fully aware of the risks of facing the occupation forces, march ahead with the Palestinians.
This is the same place where people have been killed or seriously wounded in these demonstrations. Just a month ago, American protestor Tristan Anderson was hit by a tear gas canister in his forehead that left a large hole in his brain while he was on the side of a road, away from the clashes. Today, after three brain surgeries including partial removal of his frontal lobe, doctors say it is unclear if he will survive.
In July last year, footage shot by a 17-year-old Palestinian shocked Israelis and Palestinians alike as Ashraf Abu Rama was seen handcuffed and blindfolded here in the hands of an Israeli battalion commander, while a subordinate shot him in the foot with a rubber-coated metal bullet. In separate demonstrations also held here, a 10-year-old Palestinian boy was killed, and a mentally ill man lost his eye after he was shot at.
Around 300 protestors today are walking through the footpath until a handful of Israeli soldiers, fully armed and wearing riot gear, clearly mark the point where the demonstration has to stop. A Palestinian walks with his hands held up, shouting "Shalom" as he bravely edges towards them. Another one holding a poster and a Palestinian flag joins him while urging the rest of the protestors to inch forward.
The soldiers shout back while bandying their rifles threateningly, at times aiming towards the crowd, making gestures with their hands for the people to go back. Then the first tear gas grenade is thrown, forcing many of the protestors to flee from the overpowering white smoke while others, mostly with their faces covered, start hurling stones with their slings.
As we duck for cover, an Israeli activist near me tells me this is precisely what the soldiers want.
"The soldiers are helpless until someone throws the first stone," he says. "They cannot do much but provoke a reaction, so that then they can use all the force they have."
Indeed, within minutes, army jeeps and dozens of soldiers spring up from everywhere, some of them strategically occupying high buildings from where they are aiming their canisters at the scattered protestors. It is now clear that, far from crowd dispersal – most of the demonstrators have already retreated into the village core – the canisters are being shot as projectiles. A Palestinian cameraman working with Ramattan, Ata Awad, later shows me two sizeable wounds in his back from the grenades.
Between one shot and another, I ask the Israeli activist how his friends look at him.
"It depends how friendly they are," he said smiling. "But a good part of them agree this cannot go on, even if you won't see them here."
"No," another Israeli interjects. "Many of our friends don't understand why we're here. To them, we have to stand behind the army, they say we're unpatriotic and if we're shot dead they wouldn't bat much of an eyelid."
As we're forced further into the built-up core of the village, Salah Haweja, a member of the Na'alin steering committee against the wall, tells me 120 families have already lost their houses, land and trees.
"What shall we do when we lose our land?" he says. "We already have a checkpoint with watchtowers at the entry to our village. They're making a prison out of our land. The wall has nothing to do with security; it's about segregation, a veritable Apartheid policy."
Soft-spoken but resilient, Haweja spent 10 years in an Israeli prison after the first intifada in 1987. The demonstrations here and in Bil'in, he adds, are uniting the otherwise divided Palestinian factions, while slowly gaining international support.
As we drive out of Na'alin, Jewish settlers watch from a vantage point what's happening in the village underneath them.
"It's normal, it happens every week," they tell me from a distance, refusing to be interviewed. "What's the fuss?"
All the way to Ramallah, settlements dot the landscape behind wire fences and army outposts, with houses obsessively identical always built on the highest hills.
The other Friday
Then there is Friday in Jerusalem, referred to by Arabs as Al Quds and meant to be this year's Capital of Arab Culture albeit violently repressed by Israeli forces.
Halfway through the trip to the capital, I have to go through the Qalandya checkpoint, where I have no problems to pass as a foreigner.
But among Palestinians, only those holding Israeli ID cards identifying them as Jerusalem residents are allowed through, one by one, having to pass through chilly steel bars and metal detectors.
Today happens to be Good Friday for Catholics, celebrated a week later by the Orthodox Church. An hour and a half's drive takes me from the rancid, disorienting tear gas, to the overwhelming smells of incense and burning candles in the Church of the Holy Sepulchre.
Thousands of pilgrims from all over the world – totally oblivious to what is happening a few kilometres away – are here in the Old City to retrace Jesus' final journey to the crucifixion along these narrow streets, according to Christian tradition.
Even today, most of the Palestinian Christians from outside Jerusalem are not allowed to come here, and even here Israeli soldiers and police are everywhere, heavily armed, with some of them finding no issue going in and out of holy places.
Within the Old City, thousands of Palestinians are slowly leaving to live elsewhere, exasperated by the discrimination and intimidation of government-backed Zionist expansion.
A Palestinian Christian wearing the traditional dress of the Kawwas (the Patriarch's former Turkish Guards) carrying a sword and a heavy baton as he accompanies the Archbishop is patiently taking photos with the pilgrims who stop him around every corner of the church, in their bid to take an exotic photographic souvenir with them back to their countries.
I ask him what he expects from Pope Benedict's visit here next month. "I hope he will bring peace with him, and his visit will lift all the checkpoints and the hardships of the occupation," he says. But he immediately acknowledges that thousands of Palestinian Christians will not be allowed into Jerusalem.
The owner of a souvenir shop just round the corner, also a Palestinian Christian, harbours no hopes at all.
"It will bring nothing for us," Elias Halaby, aged 40, says. "It will be just another religious trip of no political consequence for the Palestinians."
The Pope's visit will not even be good for his business – all the shops from where Benedict will pass will be sealed and forced to remain closed, for "security reasons".
"It's their (the Israelis') way of reminding us who calls the shots," he says.
As the sun goes down, pilgrims return satisfied to their hotels, while the bitter irony of a nation crucified under their noses seems to escape them completely.
Karl Schembri is reporting from Ramallah for Ramattan news agency.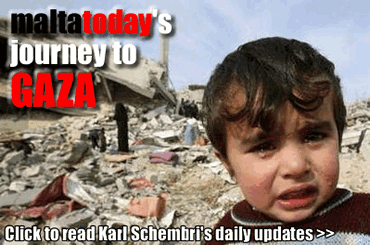 ---
Any comments?
If you wish your comments to be published in our Letters pages please click button below.
Please write a contact number and a postal address where you may be contacted.
---


All the interviews from Reporter on MaltaToday's YouTube channel.
---
EDITORIAL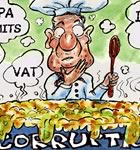 An explanation required
---
---