| | |
| --- | --- |
| News | Sunday, 12 April 2009 | |
Sexual abuse is prevalent in female drug users in Malta, a study conducted by a team of addiction experts reveals and which will be presented later this month.
In the study, conducted in Malta and around Europe, female drug addicts revealed sexual abuse as the hidden factor behind the obvious problems of addiction, mental health, low socio-economic status and criminal activity.
The authors of the study say sexual abuse is often not gives the priority and attendance it duly deserves.
"A woman who prostitutes herself to keep her drug habit going, a woman who is beaten up and still has sex with her drug addicted boyfriend, a woman who is too affected by mind-altering substances to be able to defend herself from abusive situations, a woman who for years has perceived herself as a means to an end, a woman abused as a child and who lives the same life script in her adulthood – these are all cases of sexual abuse that are very real, especially in female drug users. Yet most users come to ask for help for their drug addiction, rather than abuse," the experts said.
The authors of the study, a Daphne II programme research, are medical practitioner Dr Anna Vella, psychotherapist Mariella Dimech, forensic pharmacists Mario Mifsud, social worker Vicki Sultana, and senior probation officer Mariella Camilleri.
The study collects research on the correlation between drug use and sexual abuse in affiliation with other European countries, and the results show that the problems that exist with female drug addicts are similar and common.
A seminar presenting the study will address the rationale behind the gaols of the study for professionals to share information and raise awareness on the ever growing problem in Maltese society.
The study will be presented at a seminar on 21 April at Palazzo Capua in Sliema, and will also be addressed by social policy minister John Dalli.
---
Any comments?
If you wish your comments to be published in our Letters pages please click button below.
Please write a contact number and a postal address where you may be contacted.
---


All the interviews from Reporter on MaltaToday's YouTube channel.
---
EDITORIAL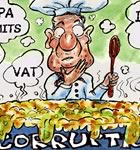 An explanation required
---
---