| | |
| --- | --- |
| Mona's Meals | Sunday, 12 April 2009 | |
It was obvious that an overland trip across the continent would entail loads of stopping for lunches and dinners along the way. As far as The Writer was concerned, this was about doing 220km per hour on the autobahn; showing his manly prowess (I think that's what he calls it) when manoeuvring, in the fog around the Saint Grand Bernard mountain road; and trying not to hit a crazy person who was multi-tasking on the phone, eating and throwing empty wrappers out of a clapped out car window in the South of Italy. TW also decided that this was the perfect time to drink an espresso every two hours. If you thought it was physically impossible to be absolutely wired and still go to sleep, try driving for twelve hours straight on ten espressos.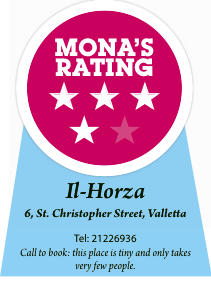 My role was to plan the food, the beds and to bark directions. I cannot believe that we were actually thinking of doing this with a handful of anally-organised google maps and without a Tom Tom, a Canadian-born Global Positioning System by any other name. After a few hours on the road, I assumed an indignant, electronic voice myself: 'Keep laaaft. Keep laaaaft. After four… hundred… metres… keep laaaft. Turn back. At faaast oppotunitah turn back.'
We chose the lady voice since the Irish guy sounded drunk and John Cleese could not stop chattering about stuff that had nothing to do with directions. The tricky bits came when it was me up against Mrs. Tom: there would be a roundabout or a 20 metre wall ahead and she would cajole us to go straight through it. TW is so used to arguing with me that he actually stopped to consider and was on the verge of believing the GPS. Sky news reports that a guy actually drove off a cliff because his GPS told him to do it. Thank goodness, TW is actually intelligent.
But yes, back to the food and beds. The highlight, and by highlight I mean flashing lights, a full Moulin Rouge ensemble and a worldwide stage, of the entire journey was our stop at Il Rigoletto in Reggiolo, Emilia-Romagna (www.ilrigoletto.it). We arrived no less than five hours later than planned to still find the lovely Signora Silvia Fulvarini waiting for us to figuratively tuck us into bed.
They had sent up some champagne to our room, freshly cooked fillets of fish, a selection of breads, cheeses and hams. Her husband is the Chef of the 3-Michelin starred Il Rigoletto restaurant: a bog-standard club sandwich, this wasn't.
The bathroom had full-sized Aqua di Parma toiletries, a Jacuzzi and both linen and Egyptian cotton towels just in case your body is too sensitive to take one or the other. The sheets were pure linen. I have striven, my entire life, to recreate the most perfect hotel bed in the world, at home, and years later I am still nowhere near the lush fabulousness of Il Rigoletto.
Probably the most amazing lunch was at the Locanda Don Serafino in Ragusa Ibla. They also have a Locanda but we stayed at the lovely Eremo della Giubiliana (where the food was also brilliant: they're on their way to a Michelin star). We scheduled an extra day here because we had hardly been stopping anywhere, and it was well worth it. Their sommelier who, sadly, I did not get the name of, is absolutely wonderful. He prepared a selection of Sicilian wines for us to go with each dish. If I kept a top three adventurous sommelier list, he would be in it.
The other two would be any of the staff at Joel Robuchon's Atelier in Paris and the other is Mark Micallef Cesareo at The Orrery in London. The stunning thing was that all of this - five dishes and five wines, coffees and loads of extras - does not notch higher than €100 per person. I gushed wines and smelled and slurped with the Sommelier while TW nursed a crush on the cute waitress and put up with my kicks under the table. Men.
It was not all perfect. In one case, it was awful. In order to avoid Naples (and us being murdered and the car dismantled into little bits) we went to Paestum in Campania. It took us ages to arrive, and most of the driving was through a dirt 'coast' road full of prostitutes and cheap discotheques. "If Bugibba could look worse than it does, it would look like this," I told TW in order to keep him awake as he tried to avoid the 459 holes in the 'road' and the 364 'ladies'.
The Agriturismo was meant to belong to a Baronessa but instead we got an ageing queen. There was a pump action Felce Azzurra on the basin which doubled up as shower gel and a breakfast so awful it contained dry bread slices, butter and jam, a dry ciambella and nothing else. If anybody ever says you can't have bad food in Italy, I'll stuff that ciambella down their throat.
We also stopped at five million Auto Grill and at some point purchased the worst CD our ears have ever been subjected to. I'll mail it to the first writer to express their 'need' for Pino Daniele's finest on the 'How to Buy a Car from the UK' articles on www.planetmona.com. Go on, admit you want it, I dare you.
I thought we could ease ourselves into this island by going to Il-Horza and I was right, even though it was not my idea but the Gay Best Friends'. [Please note plural: one GBF tongue-stabbed another GBF because the latter got to take me out. I want to avoid these kinds of queeny skirmishes if I can.]
Charlie at this tiny hole in the wall has brought over a gazillion cars from the UK (including, horror of horrors, and Escort mark 1 van) and developed, over the years, a fixation with Sicily and its finest produce. He is, not to put too fine a point on it, obsessed with food, wine and quality produce.
This he blends with whatever he finds in this local bit of Mediterranean. His selection of seafood has always been strange and stunning. Once, we ate a local lobster, a xkall, at his place and this time it was the turn of some sand cipullazz. I encouraged the others to try it on the basis of its strangeness, but then I did not like it; not because the kitchen had done anything wrong, but because it was so meaty in texture.
There is just one teeny weeny problem with Charlie. He talks. A lot. A real, real lot. He is also amazingly friendly so I'm loathe to stop that in any way. But when you talk so much, you forget things because you get carried away. 'Can we have some assaggi? I asked since TW was on the verge of fainting, and the bleeding GBF's were, once again, late. "Of course!", he said, and promptly started telling us about another adventure and forgot the assaggi.
I had the calamaretti, a pasta which was meant to come infused with something in its durum wheaty composition. Over the years I have developed an excellent nose but I can never taste these pasta flavours. If anybody else has, including in the nero di seppia kind, let me know. Anyway, it was lovely and fresh and mixed with olive oil, herbs and fresh bits of swordfish. Oh god, I'd promised to stop it with the pasta once I was out of Italy: my tummy is approaching the three-month preggers stage.
The others had the strozzapreti, rather because they're Nadur die-hards and liked the idea of the translation. It came with a cream of artichoke sauce and half an artichoke on the side. One said he liked it, the other didn't, one was unsure: getting them to agree on food is like asking them which bronzer is best.
Three of us had the sand fish. I loathed it. The GBF loved it. TW ate it and did not comment, tired as he was. The Corporate Lawyer and the Art Director shared a massive piece of T-Bone, a Charolais fiorentina. I tried it: it was fabulous. On the side, we had some potatoes roasted with the skin on and some fried zucchini. They were ok, but not tear-inducing.
I had once written that Il-Horza needs to up its dessert list, and they listened. There was a lovely choice, although all except the GBF went for the zeppoli: choux buns stuffed with ricotta, bits of chocolate and candied peel and deep fried. Zeppoli have to be eaten super fresh, even freshly-fried, and the best way to enjoy them is after queuing for half an hour outside Busy Bee on San Guzepp, but well, this was a not-so-close second. The GBF ate all of his strawberry pannacotta then turned to the zeppoli Charlie had brought him. Greedy sod.
The wines were not only fantastic, but chosen with much love by Charlie. On a corner of the restaurant, he has a little bottega full of very limited amounts of wines which have only had a ten per cent mark-up added. I think the idea is fantastic and like this, we ended up having two really lovely Sicilians at around €12 each. Charlie, you deserved a huge kiss for this. Sorry I couldn't supply: TW was tired, but not blind.
We had coffee, and Charlie kept bringing over little bits and bobs of Sicilian almond sweets until we thought we were going to explode and TW was fast asleep. At this point, he had got into his raconteur mode and we had no idea how to tell him we wanted to go home, especially because he brought out the grappa.
I'll be going back, so he could prepare his stories for next time. Meanwhile, if you're planning to buy a car from the UK, I'm sure you'll come back with a few of yours.
---
Any comments?
If you wish your comments to be published in our Letters pages please click button below.
Please write a contact number and a postal address where you may be contacted.
---


All the interviews from Reporter on MaltaToday's YouTube channel.
---
EDITORIAL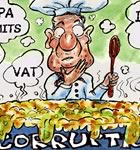 An explanation required
---
---