| | |
| --- | --- |
| Letters | Sunday, 12 April 2009 | |
I am not in favour of hunting. I am fortunate in that where I live I can enjoy wildlife all year round. I have the opportunity to feed the wild collar dove in my garden. So I am out against hunting. However as a Maltese citizen I feel offended at the way the hunting issue was carried out. The hunters were taken for a ride by the government many of them sustained. The lies that were printed and sent to them before the referendum is a shame on those who wrote them. I cannot but shun the politicians who took advantage of their position to do away with hunting the way they did. My only consolation is that at least our winged friends have benefited from this political infamy. Another thing that has become clear to many Maltese is that the political community in Malta can never ever be trusted.
---
Any comments?
If you wish your comments to be published in our Letters pages please click button below.
Please write a contact number and a postal address where you may be contacted.
---


All the interviews from Reporter on MaltaToday's YouTube channel.
---
EDITORIAL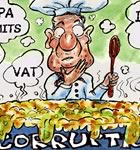 An explanation required
---
---