| | |
| --- | --- |
| Letters | Sunday, 12 April 2009 | |
Karmenu Mifsud Bonnici was right not to be present on Bondiplus's edition on Freedom Day. The only reason why he should have been present was if Malta is now not a member of the EU. Immaterial of whether I agree with the EU or not, the 21 September of 1964 and 31 March of 1979 are not significant anymore. It is precisely like celebrating the birthday of someone when that person is dead.
In September of 1964, the late George Borg Olivier started some form of negotiations with the British. Until then, we were not independent. Independence truly came on the 31 March, 1979 when Dom Mintoff asked the British residing in Malta to "go home", which thank God they did, military base and all.
Thirty years ago we became free from the 'clutches' of the British and work was plentiful even for those who were employed with the dominant British of the time. Today 1964 and 1979 are just two anniversaries which have lost any meaning whatsoever because once again we are the slaves of the EU, which just about makes as us free as hardened criminals on death row.
---
Any comments?
If you wish your comments to be published in our Letters pages please click button below.
Please write a contact number and a postal address where you may be contacted.
---


All the interviews from Reporter on MaltaToday's YouTube channel.
---
EDITORIAL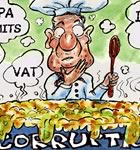 An explanation required
---
---