| | |
| --- | --- |
| Letters | Sunday, 12 April 2009 | |
Several rumours have been propagated and spread that recreational fishing and angling will be facing an outright ban over the next few months. The furore has been spawned by the fact that, in November 2008, the European Commission proposed a re-cast of the EU system for fisheries controls, which included basic obligations for recreational fisheries practised from vessels at sea that fish for particularly vulnerable fish stocks. These vessels will be subject to authorisation, catches will need to be reported and counted against the national quotas for the respective species. Recreational fisheries on fish stocks in better condition will not be affected. Species affected by the revamped controls include cod, hake and bluefin tuna.
Joe Borg, European Commissioner for Maritime Affairs and Fisheries, commented:
"Recreational fishing can also have an impact on threatened fish stocks. In our efforts to save species like cod, hake and bluefin tuna, we cannot afford to ignore activities that have a substantial impact. It seems only fair that some of those fishing for recreation should contribute to professional fishermen's efforts to bring threatened stocks back to healthy levels. It is not a question to place disproportionate burden upon individual anglers or on the leisure fishing industry. We only propose to subject recreational fisheries on certain specific stocks to basic permitting and catch reporting provisions: this is simply to obtain more accurate information which will allow to gauge exactly what the biological impact of such activities is."
Recreational fishing is an important activity in Europe which contributes to local development. Estimates of the total number of catches indicate that some recreational fishing from vessels have a significant impact on stocks. For example, it is estimated that in the Baltic Sea, recreational fishermen take the equivalent of 50% of Germany's cod quota. In the Mediterranean, the estimated volume of bluefin tuna caught by recreational fishermen represents over 20% of Italy's bluefin tuna quota. Conversely, in Malta, bluefin tuna catches by recreational fishermen are not that significant. Hence, the broad proposed framework concerns only anglers fishing from vessels for a number of fish species for which quotas exist, such as bluefin tuna, cod and hake, most of which are not caught in the Mediterranean – anglers fishing for other species or from land will not be affected.
Recreational sea fishing is already extensively regulated by the Member States themselves and there are many cases in which permits and catch reporting are already obligatory. Some Member States have already put national rules in place for anglers which even go beyond what we are proposing. For example, in northern France an angler can only catch 10 kg of cod during each fishing trip; if he catches more he is fined under national law. In Belgium an angler is limited to 15 kg of cod per fishing trip. These are rules that both France and Belgium have put in place nationally.
Bottom line is: Maltese and Mediterranean anglers will not be affected by such action and any rumours to the contrary are unfounded and malicious.
---
Any comments?
If you wish your comments to be published in our Letters pages please click button below.
Please write a contact number and a postal address where you may be contacted.
---


All the interviews from Reporter on MaltaToday's YouTube channel.
---
EDITORIAL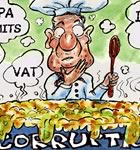 An explanation required
---
---