| | |
| --- | --- |
| Letters | Sunday, 12 April 2009 | |
Half your leader last Sunday (5 April, 2009) is taken up by George Abela's episode as a member of the 1986 electoral commission. Likewise Saviour Balzan's.
Knowing well enough how the two of you respect journalistic fairness, I feel you ought to be made aware of all the facts surrounding that episode.
George, three others and myself were the Labour government's nominees on the 1986 Electoral Commission. There was no 'seniority' between us: we all pledged absolute impartiality and correctness. So, incidentally, did the other three commissioners chosen by the Nationalist opposition. All eight of us honoured our commitment and cooperated fully in the workings of the Commission, except unfortunately on the delicate issue of the electoral boundaries.
Not unexpectedly, this proved an impossible task, but not before several attempts were made for an acceptable compromise which itself would not even guarantee harmony between votes and parliamentary seats. The Commission's chairman and the whole department initiated most of the proposals that could possibly eliminate the widely-perceived 'gerrymandering' factor. Each time the electoral laws themselves would stand in the way of an agreed compromise among the commissioners, e.g. total contiguity inside each of the 13 districts, not more than a 5% divergence as between their 13 quotas and other constraints. Whichever way we turned within the parameters the perception of 'gerrymandering' remained in favour of one party or the other. This 'bias' is in-built into the very restrictions imposed by the electoral legislation itself one way or the other: this phenomenon was eventually proven by the results of the 1998 general election, but in a direction opposite to that of 1987.
When all seemed 'lost' with unanimity on the boundaries impossible, the constitutional amendment was enacted and we all breathed a sigh of relief. There remained hardly any point in pursuing the disagreement on the boundaries since every possible alternative appeared to harbour a bias for either party. To facilitate the administrative work and cause least disruption in the individual candidates' established 'territories', we felt it was just as well to cause minimum changes in the boundaries in an effort to meet the constraints. Sadly this was not acceptable to the 'minority' commissioners whose proposal contained no less a bias than the majority's, but of course in the opposite direction. Hence their dissenting report.
---
Any comments?
If you wish your comments to be published in our Letters pages please click button below.
Please write a contact number and a postal address where you may be contacted.
---


All the interviews from Reporter on MaltaToday's YouTube channel.
---
EDITORIAL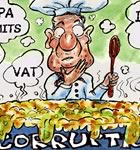 An explanation required
---
---