| | |
| --- | --- |
| Letters | Sunday, 12 April 2009 | |
May I congratulate Bishop Mario Grech for his outright denunciation of the futile and inhuman detention policy our state adopts, and for reminding parishes and churches of their duties towards these African children of God. I may not agree with everything the Bishop said in the past, but his words linking the tragedy of the Holy Mother at the foot of her divine child's cross to the tears she must be shedding for the destiny of her African children that end up on our islands stand as a beacon of Christian courage. At a time where political parties and hopeful MEPs attempt to outdo each other in wet-finger politics, and other public figures grin and hide behind vague statements, he chose to be a sign of contradiction.
---
Any comments?
If you wish your comments to be published in our Letters pages please click button below.
Please write a contact number and a postal address where you may be contacted.
---


All the interviews from Reporter on MaltaToday's YouTube channel.
---
EDITORIAL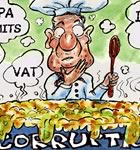 An explanation required
---
---