| | |
| --- | --- |
| Film Review | Sunday, 29 March 2009 | |
That families are a hotbed of melodrama is undeniable. Whether or not this melodrama is justified is often beside the point: the accumulation of raw emotions and life-defining events that we share with our parents, siblings and other relatives will niggle and tickle at our touchiest parts until our dying day. It's hardly surprising that the family unit is often exploited for soap operas. But what of less trashy attempts to capture the pitfalls of this universal dynamic? Happily, Jonathan Demme's Rachel Getting Married is a worthy stab at this rich theme.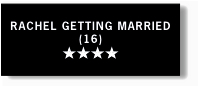 Demme, known to most as 'the guy who directed Silence of the Lambs' (his actual repertoire is impressively eclectic: everything from comedies to rock docs), takes on the debut screenplay by Jenny Lumet. This union of seasoned director and fresh talent works wonderfully to create a pint-sized masterpiece that tackles potentially heavy-handed, manipulative subject matter with both tenderness and maturity. But the final piece of the puzzle, and what propels the film to its own kind of greatness, is Anne Hathaway's performance as the troubled Kym. Returning home from rehab on the occasion of her sisters' wedding (the titular Rachel, played by Rosemarie DeWitt) to Sidney (Tunde Adebimpe), she opens up old wounds, which threaten to undermine the otherwise blissful multicultural melting-pot that currently brims around the house. Declaring herself to be 'Shiva the Destroyer' to the idyllic celebrations, she then proceeds to live up to the promise: a narcissistic, needy leech, her only redeeming feature as a protagonist, initially, is her tendency towards witty black humour. But as she unravels, she exposes what's behind everybody else's veneer, showing that the situation isn't as black and white as it may first appear.
Hathaway truly inhabits the role, having none of the annoying grandiloquence of some stars who take on 'gritty' roles to bolster their profile. What at first appear to be utterly reprehensible traits become mere intensifications of universal struggles, when offset by the more domestically-friendly pettiness and vanity that surrounds the wedding preparations. And yet, one of the strengths of Lumet's script is that it's never flags in its affection for its characters, flawed as they may be: the aim of the film is to show the ebb and flow of familial life, how pain can bounce around and recede (often unpredictably) and not simply to condemn Rachel's selfishness and her family's bourgeois hypocrisy. This distinctly un-Hollywoodlike approach - thanks to which nothing is tied up with a neat bow - is completed by Demme's decision to film everything in Altmanesque handheld. This not only adds to the 'home video' feel that befits the wedding occasion, it also helps to sabotage any potential melodrama, which unfortunately does threaten to undermine the film's overall authenticity, especially when the central, pitch-black family secret is revealed. Nevertheless, the film manages to skate through any bumps thanks to its breezy, confident direction, which results in a refreshingly honest and compelling drama.
---
Any comments?
If you wish your comments to be published in our Letters pages please click button below.
Please write a contact number and a postal address where you may be contacted.