| | |
| --- | --- |
| Mona's Meals | Sunday, 22 March 2009 | |
Jade Goody, now Tweed, has given the word 'celebrity' a whole new meaning. If then, its root was in the verb 'to celebrate', now, any idea of joy is literally being put to rest as Jade makes as much money as she possibly can out of it by dying in front of our very own eyes.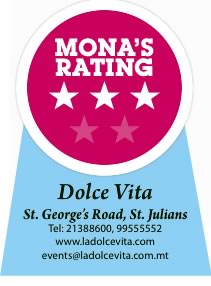 Just in case your information about what is happening beyond these shores comes only from this newspaper, or maybe you have been hibernating for a couple of months, please allow me to tell you about the person formerly known as Jade: she was the UK's version of an uneducated hamalla, loud and uncouth. She did not win Big Brother the first time she took part (she came second) yet was catapulted into the public eye in weeks. She launched a perfume, which sold out, opened a salon and filmed the process for Living TV. Then she went on to insult a Bollywood actress on Celebrity Big Brother, proceeding to India to apologise and take part in their Big Brother (called Bigg Boss). There, she was told, live on air, at her own insistence, that she had cervical cancer.
Confused? Don't be. The whole point is this: thanks to Jade, death has taken centre stage in our lives and on our televisions. Her cancer, something she professed to be able to take on and win at the inception, has now completely taken over.
In order to leave money to her sons, Jade has sold the rights to the filming, photography and general reportage of her illness, consequent wedding and death to Living TV and OK! Magazine. I write all this and recognise the truly bizarre nature of it all, yet remain completely unjudgemental. Judgement, in situations like these, is pointless.
I watched the wedding, with her once-heroin addict mother bawling her eyes out, her new husband, hot, but fresh out of prison (for assault), uncomfortable in front of the camera, her three best men (Tweed's best mate and 'her' two personal paparazzo photographers-cum-bestest friends), Jade herself, lapping it up for the cameras while obviously in considerable pain (she had to rest halfway through). I gawped at her sponsored clothes, jewellery, venue, food, opera singers disguised as waitresses (a gift from the one man who is also uncomfortable being in front of the camera: Max Clifford himself); I swallowed heavily as she pulled her dress up to show off her garter and four-inch Louboutin shoes and wondered if the French shoe maker possibly thought this was good publicity. I couldn't feel sickened and I couldn't feel any kind of anger either.
Celebrities are what we make of them. Jade is a product of the media, of what the readers of Heat, the Mirror and magazines and newspapers of their ilk want, and of Telegraph readers who think they can do without the fix but read on anyway. She is the first person to milk the system until death. Literally.
The entrance to Dolce Vita is strewn with photos of people who I don't know but who I possibly should. Now, in Italy, this 'celebrity wall' entrance is common; I have eaten horrid lunches and dinners at places supposedly packed with celebs. In London, somehow, it is different. The Ivy, for example, is still paparazzo central, but I had a fabulous dinner there. At The Wolseley, the food was semi-spectacular and you could feel that half the people in there had been in the public eye. Michael Winner apparently has Sunday lunch there every fortnight. At Hakkasan, they stopped me and the Shoe Man from taking pics of ourselves, just in case a celeb popped into the frame and we'd be invading their privacy or planning to sell the product to a trash mag.
We don't have a Wolseley or a Hakkasan. So instead, The Writer and I went for Sunday lunch at Dolce Vita. The table setting on the balcony, in our wonderfully kind and warm spring sun, was just fantastic. The bread had been placed there prior to our seating, so it had turned to toast. We asked for it to be exchanged and the replacement was semi-hard. There was no butter and no olive oil.
Dolce Vita switches bizarrely between the incredible and the plain bewildering. There's a reception downstairs, for example, which is rare in Malta. There is a huge wall of wine. There is chic décor. Yet the set menu, at a very acceptable €20, had wheat in each starter and TW didn't want that. On behalf of wheat-intolerants and gluten-afflicted lunchers everywhere, he asked for an alternative.
The Executive Head Chef came out to ask what he would like as replacement. TW was offered a salad, which he accepted. This turned out to be full of lovely, fresh leaves, a decent sweet dressing, bitter orange segments and, hold on, sweetcorn? "I thought this was a kitchen dodo," he exclaimed. He ate it all but left the offending yellow beads.
Prior to the starter, you get a freebie. In our case it was a couple of ravioli, choc-full of melted cheese and tomato, deep fried in fruity olive oil and served on a couple of slices of salame piccante. I adored them. TW ate the salami.
The wine is slightly overpriced but the choice is decent; our white came well-chilled and really, while sitting in the sun, all you care about is that it works its magic, cools you down, and makes you tipsy. I wasn't slurping and spitting: good thing too, because the glasses are incongruously cheap as chips.
My tagliatelli, fresh, laden with flakes of fish and roe, were highly acceptable, although slightly under seasoned. Some fresh basil would have lifted them no end. From the pre-starter, to the starter, serving had been superbly quick. In fact, a little too quick. Post-starter, we waited a good 25 minutes for mains, and had to ask twice. When they finally turned up the 'arrosto misto' was a roasted piece of pork loin on a wafer thin slice of veal loin, sandwiching what seemed to be pumpkin puree. The kitchen forgot to put potatoes on my plate. The jus was divine.
TW had the chicken leg which was also roasted, doused in black pepper, and happily sitting on a plate after having been taken out of its misery at the battery farm. Once you try real chicken, by which I mean a nice piece of corn-fed, no amount of saucing will sell you the three-week birth-to-death animal. This sauce, in particular, was artichoke, earthy and salty. Because TW had asked for no potatoes, he got nothing on the side.
The staff are mostly really, truly good: well trained, polite, interesting and interested. All of them speak Italian; sometimes, in these kinds of restaurants, I wonder what on earth they'd do if a non Italian speaker turned up - they do exist, you know. We did get a dud one at the end though: she would absolutely not tell us what dessert was: 'sorpresa' she insisted, over and over. I ended up having a semi-argument with the girl. I know it's €20, as Fun Cricket Man told me later, but still, what is, if any, the point except giving patrons whatever is left?
We eventually found out, from another waitress, that there was a lovely tiramisu and a cherry cheesecake, both creamy, gooey, terribly simple, terribly alcoholic. Sadly, with his 'no-wheat' dictum, TW ended up with an out-of-season selection of fruits, which were tasteless and had been peeled and prepared a couple of hours prior. I had the 'cheesecake'. I loved it. Why could nobody tell me what it would be? There are two situations where surprises are not so fabulous: in food and in death.
We waited another twenty minutes for an espresso, a sign of clear mismanagement since the restaurant was, by then, only half full. Desperately I drank my Averna with ice as the lovely Cricket Man devised a way of inviting us back to his for some arabica and made us laugh throughout.
Opportunities like this, where places like Dolce Vita open their doors to those who want a taste of the high life at a low price, are a marketing possibility. Here it is not being exploited well. After this, lunchers should want to go back for more, and that is usually dinner. They should want to follow the story through. A bit like the Jade saga, really, only you get to live at the end.
---
Any comments?
If you wish your comments to be published in our Letters pages please click button below.
Please write a contact number and a postal address where you may be contacted.
---