| | |
| --- | --- |
| Editorial | Wednesday, 28 January 2009 | |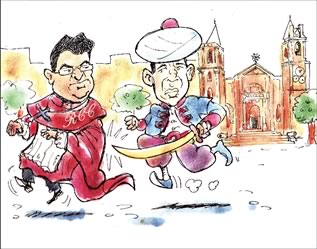 As time wears on it is becoming increasingly evident that Prime Minister Lawrence Gonzi now regrets his former secretary general Joe Saliba's strategy to turn Jeffrey Pullicino Orlando into a martyr before the election.
With each passing week, the visible gulf between the PN and its maverick backbencher from Zebbug grows visibly wider: and nowhere was this tension more palpable than at a public meeting in Balzan last weekend, where Jeffrey Pullicino Orlando occupied a front row seat while the Prime Minister ostensibly defended the controversial St John's Co-Cathedral extension project.
Pullicino Orlando's opposition to this project is widely known and documented, having dedicated a parliamentary speech to rubbishing the proposed underground extension of the Cathedral museum as a waste of public funds.
Less well known is the involvement in the Cathedral Foundation board of Malta's permanent representative to the European Union, Mr Richard Cachia Caruana... whom many believe to have been the unseen hand that dashed Jeffrey Pullicino Orlando's hopes of landing himself a Cabinet post in the new Gonzi administration.
In Balzan last Saturday, Pullicino Orlando's obstinate refusal to join the usual chorus of applause for his leader was not lost on the journalists who attended the event; it was almost as though the Nationalist MP wanted to make his dissatisfaction known to the general public, and cause maximum embarrassment to his own government.
These are all symptom of possible unrest ahead, as Pullicino Orlando now occupies the precarious "hot seat" in a single-seat majority scenario: a curious inversion of the historic clash between former PMs Alfred Sant and Dom Mintoff over another capital project, this time on the Cottonera Waterfront in 1998. Of course, the latter scenario was a Budget issue, and if the PN had to lose the vote on the Cathedral motion, embarrassing as that may be, it would not threaten the government.
Admittedly it is now unlikely in the extreme that Jeffrey Pullicino Orlando will be given the opportunity to do what Mintoff had done back then, and scuttle his own government out of spite. Nor is it certain that he would do this anyway, as in his comments to the media last Sunday - despite a clear difference in attitude to the Sunday Times and MaltaToday, which he threatened with a breach of privilege - he proved reluctant to commit himself to voting against the project.
But at the same time, few would deny that Joseph Muscat's idea of a motion against the project was inspired directly by Jeffrey Pullicino Orlando's declared stance. And sensing the Opposition's chance to divide and conquer, the Nationalist Party machine went into overdrive to smother any possibility of the motion actually coming to a vote.
Parallels with the 1998 Mintoff-Sant saga are at this point perhaps inevitable. Though it is hard to imagine two more different politicians than Mintoff and JPO, it remains a fact that both polemics involved governments rattled over unpopular projects in a single-seat majority scenario. In addition, both cases also show up the shortcomings or weaknesses of their respective party leaders at the time.
In the case of Alfred Sant, it was his own naivety that had allowed Mintoff to contest the 1996 election on a private, individual manifesto: an arrangement Sant would find himself ruing but two years later, when Mintoff opposed his austerity budgetary measures on the grounds that the MLP had "lost its social bearings".
Sant's second mistake was to tie a vote of confidence to an individual parliamentary bill, thus providing his dissident backbencher with the means to demolish his own government.
In like fashion, the present situation also shows up the fundamental differences between traditionally Labour and Nationalist ways of doing politics. For while Alfred Sant allowed his rashness to get in the way of his better judgement - declaring outright war on his party's former idol, and sowing the seeds for his own downfall in the process - Lawrence Gonzi has displayed all the calculated, cynical ruthlessness of a Machiavel.
Rather than openly confront JPO, or try to force his hand by calling for a vote of confidence, Lawrence Gonzi engineered a defeat of the Labour Party's motion through purely procedural means. He then took the opportunity to circumvent the lack of a pairing arrangement - and therefore avoid a repetition of this week's political dilemma – by altering the House laws to limit parliamentary absences during crucial votes.
In so doing, Gonzi has also underscored a certain naivety on the part of Opposition leader Joseph Muscat. Greater familiarity with parliamentary procedure would surely have denied the PN an opportunity to sidestep what could have been a highly embarrassing and awkward situation for the government. Unsurprisingly, the party consisting primarily of lawyers – and which has enjoyed more than 20 years of almost uncontested power – found a loophole in the system, allowing the Prime Minister to upstage his relatively young and inexperienced rival, at least for the time being.
Lawrence Gonzi has therefore won this initial battle, and can now live to fight another day. But how long he can afford to sit comfortably on his throne, is another matter altogether.

PRINT THIS ARTICLE
---
Any comments?
If you wish your comments to be published in our Letters pages please click button below.
Please write a contact number and a postal address where you may be contacted.