| | |
| --- | --- |
| Eric German | Sunday, 18 January 2009 | |
Neil LaBute's film is a fictional thriller but it's similar to a real life case in which a black LA cop faced charges of serially harassing his neighbours, especially interracially married couples.


Chris and Lisa Mattson (Patrick Wilson and Kerry Washington), an interracially married couple, move into their new home in Lakeview Terrace. Their arrival angers Abel Turner (Samuel L. Jackson), an overbearing, racist cop who's against interracial marriages.
Turner, a widower who's raising his two children, makes thinly disguised threats to Chris who he also taunts with blatant racist remarks.
At night, he turns his blazing security spotlights on their bedroom, slashes Chris' four tyres and sabotages their air conditioning system. Reasoning that it would be futile to report him to the police as he's a 28-year-old veteran, Chris tries to befriend Turner.
When his attempts fail, Chris makes it clear that they're not going to leave because of him and he tries to retaliate.
Apart from one serious flaw towards the end, the screenplay is very well written, with dialogue that allows Jackson to make what sound like slight jokes while unmistakably conveying the real and threatening meaning. Similarly, the writing is generally understated but the plot unfolds in an atmosphere of unrelieved hostility and menace.
The first image is that of a forest fire that's blazing in the vicinity. It introduces Turner who's watching it on TV, but it's utilised as a metaphor for the human conflict which also escalates dangerously.
LaBute is better known for his plays and as the writer/director of intelligent but not mainstream films like In the Company of Men (1997). In Lakeview Terrace he proves to be equally efficient in directing an unusual thriller.
He keeps a tight focus on the two male antagonists, generating constant tension and occasional suspense and making the film so involving that at times it makes you feel uneasy.
Jackson makes it his film by giving a buttoned down but unmistakably sinister portrayal of man who's obsessed with respect and race or one whose past has made him deranged.
The script hints at this possibility but keeps us guessing until there's a surprising development.
But when the film shows him in action, we witness his efficiency but also his abuse and brutality. What is certain is that he's the proverbial worst nightmare, a psychological case with a badge.
The incident which precipitates the climax is contrived and the climactic confrontation is too formulaic. Having watched the film do so well for so long, it's even more disappointing to see it taking the easiest and most conventional way out and this is happening too often.
As usual, the film begins where the previous one left off but that ending is now shown to have been incomplete as Agent Strahm (Scott Patterson), having come upon the operating room where Jigsaw (Torbin Bell) died, continues to probe. He gets caught in a trap from which he escapes by performing a tracheotomy on himself.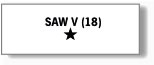 Although he's the hero, Strahm is taken off the case and given sick leave while Detective Mark Hoffman (Costas Mandylor), who also survived Jigsaw's seemingly final series of death "games," is promoted and decorated.
The film continues as it begins. There is little in the way of new plotting and after the first half, there's hardly anything to keep one awake. There are flashbacks galore and these fill in the blanks left by previous sequels while the script creates new ones for future sequels to take up.
Jigsaw is shown to have had an apprentice and his identity doesn't come as a surprise. The present plot is intercut with shots of Strahm going through the files on the case to investigate Hoffman.
Past photos and newspaper clippings are illustrated as flashbacks and taken a point further. There are too many flashbacks and the pattern of alternating between past and present becomes repetitive and monotonous.
The opening sequence has obviously been lifted out of Edgar Allan Poe's The Pit and the Pendulum. It's brief, sadistic and very tense and it works as a piece of Grand Guignol.
When a group of five people is put through a series of death traps, these turn out to be disappointingly uninventive. In fact, nothing in the film matches its opening sequence, not even the climactic crushing walls even though these are also from Poe.
Mandylor and Patterson look as bored as I was and they walk through the film without giving half a performance between them. The only acting is done by Bell who gets more screen time than usual by comparison but it's still too short.
The film takes place in semi-darkness and at times this can be excused as forming part of the dungeon-like settings. But when even offices turn out to be suffering from the same shortage of light, it becomes clear that this is done to hide the poverty of the budget.
---
Any comments?
If you wish your comments to be published in our Letters pages please click button below.
Please write a contact number and a postal address where you may be contacted.