| | |
| --- | --- |
| News | Sunday, 11 January 2009 | |
Matthew Vella
George Abela, a former contender for the Labour leadership, is the man upon whom Lawrence Gonzi and Joseph Muscat have agreed to be appointed the new President of Malta.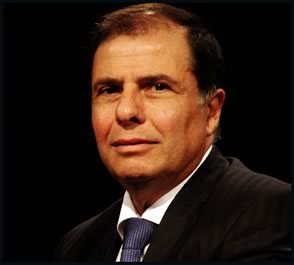 Abela, 60, yesterday said he had "no comment to make" at the news that the prime minister and the Opposition leader had reached agreement on his nomination.
One of Labour's deputy leaders under Alfred Sant before resigning in 1998, Abela was nominated by both Muscat and Gonzi. MPs from both the PN and the PL were informed of Abela's appointment yesterday afternoon. But both sides kept silent on the matter since Gonzi will have to take the name to Cabinet tomorrow before announcing him, while Muscat has to still convene his parliamentary group.
Abela will be Malta's ninth president, and the first Labour politician to be appointed by a Nationalist administration.
Abela's pending appointment culminates a life spent actively at the service of trade unions and the Labour party, while enjoying enormous respect in high government circles and with Nationalist voters.
In the 1980s, he became a household name as the president of the Malta Football Association. Having previously been the president of Qormi FC in 1976, he became MFA president in 1982, a post he occupied up to 1992 when he retired to join Labour as deputy leader responsible for party affairs.
There began Abela's foray into politics, who together with newly elected leader Alfred Sant changed Labour into the party that would regain power by 1996.
Abela's resignation, in protest at Sant's decision to go for early electins, remained a source of conflict for Labourites who resented the damage he inflicted upon the administration in 1998.
Right up to the leadership campaign in 2008, Abela was still claiming he had opposed Sant's bid for early elections just after 22 months of government.
But former Labour minister George Vella was quick to intervene, saying Abela had voted in favour of a motion in July 1998 calling for early general elections in September of that year. Vella even poured cold water over Abela's claims that Labour had had planned a U-turn on EU membership in 1997. The foreign minister said he hardly believed any meetings were held to discuss such a change in policy.
But Abela's fall-out with Sant – object of enmity for Nationalists – and his subsequent doubts over Labour's fight against EU membership, fashioned his aura of acceptability.
Throughout the years, Abela cultivate a respectful and close friendship with the likes of Lawrence Gonzi and even Austin Gatt. Former Labour minister Lino Spiteri, who also resigned from Sant's government in 1997, actively supported Abela during his campaign for the Labour leadership in 2008.
His return to politics preceded a long silence in which Abela faced a number of ups and downs.
His relationship with the General Workers Union was unceremoniously ended only a few months after the hot summer of 1999, when he participated in the blockade of a police coach transporting workers arrested during industrial action at Malta International Airport. Following a disagreement on the GWU's handling of a court case filed by the government against the union, Abela resigned.
Relations deteriorated further in 2007, when GWU port workers appointed the excommunicated George Abela as their legal representative in discussions with the government on port reform. A few months later, the majority of the port workers left the GWU to form the Malta Dockers Union, depriving the GWU of its strategic power in the ports.
Abela prospered as well. His legal firm was given the entire caseload at the Malta Environment and Planning Authority following legal action taken by MEPA's in-house lawyer Anthony De Gaetano against the authority. De Gaetano sued MEPA successfully over a breach of his rights when he received disciplinary action. But in the meantime, MEPA wrested away his caseload by outsourcing it to Abela's firm for an annual Lm13,000 (€30,000) and a Lm20 (€46) hourly rate.
Buoyed by his Nationalist friendships and the moderating influence of Lino Spiteri, Abela enjoyed untold respect among Nationalist voters. Viewed as a 'moderate Labourite', Abela earned the unlikely endorsement of outspoken PN supporters like Times columnist Andrew Borg Cardona, and others who appreciated Abela's middle-of-the-road aura as a 'Gonzi of the left'.
Starting the race as an outsider, Abela fast made inroads in Labour after the 2008 general elections. He courted Alfred Mifsud, former secretary-general Dominic Fenech, Lino Spiteri and former Speaker Myriam Spiteri Debono to his side. Even Dom Mintoff attended his rallies. He found a new ally in Marlene Pullicino, Labour's latest recruit.
But despite his anti-establishment ticket, Abela found it hard to penetrate Joseph Muscat's constituency and the party's youth. As expected, he managed to win a run-off against Muscat.
Abela was born in Qormi, educated at the Lyceum and the Royal University of Malta where he graduated as lawyer in 1975. He is married to Margaret Cauchi and has two children, Robert and Mary.
---
Any comments?
If you wish your comments to be published in our Letters pages please click button below.
Please write a contact number and a postal address where you may be contacted.