| | |
| --- | --- |
| Mona's Meal | Sunday, 21 December 2008 | |
The 8th and the 13th December may be the most conveniently placed public holidays of the year because they kick-off the shopping season. Let's face it: after so much doom and gloom about the financial meltdown (thank you bankers! First you drown us in credit then you blame us for taking it), we need to stop checking our online bank accounts and just relax the grip on our purses for a while.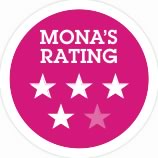 Over the years, I have become something of a shopping expert: I know exactly what to buy, where and how. I know when something is worth purchasing in the season, and what is worth waiting for in the sales. I know when to buy on eBay, which eBay (US, UK, France) and when to get out of a huge, Blackberry-induced bidding war. I have an in-depth knowledge of what to buy in Malta and what to get while I'm abroad, which chains cost more here and vice versa. Last year, I even managed to get my boss the toy of the year – um, for his kids, not for himself - when Hamleys had been sold out of it for three weeks.
At the same time, I am fallible, which means that this year I bought not one, not two, but three horrid Crocs which I will, slowly but surely, donate to our maid sometime soon: cleaning is the only thing they seem fit for.
When it comes to Christmas, I'm no cynic: I absolutely adore it for all the wrong reasons. I love the hedonistic consumption, singing wildly to 'All I want for Christmas is You!' in the car and looking at the twinkling lights on the tree. But like any other heterosexual couple, this time brings its arguments simply because what The Writer and I understand by the word 'shopping' are two very different things. Yet for us, Christmas irons out the linguistic differences and makes things fun.
I adore our jaunts out, and their quick follow-up with cocktails and snacks. The only way our buzzing around can constitute 'us' time though, is if it involves food and interiors. Any hint of clothes shopping sneaks in and TW dashes out.
On the local landscape, several truly fantastic things have occurred over the past few months which give me a particular pleasure in parting with the plastic cards nestling in our wallets.
First, there's the deli counter. Whereas before every supermarket was a let-down, there is finally one that stands out. We now have to wait in line to get our fix of French cheese and charcuterie. Every permutation of French hard, soft, blue, runny, stinky and sublime cheese is available and we just love it. For the first time ever since we've been together, I managed to drag TW to a super and he did not complain.
Moreover, Mark Zammit, who runs the one I like, is - if it's possible - even more in love with his sheep, goat and cow's produce than I am. Considering that such joy was previously only available after a quick stint abroad, to say his deli has practically changed how we buy our food is no understatement. Towards the end of my working day, I crave those minutes when I arrive home, cut myself a selection of deliciousness, pour myself a nice glass of red, and just chill out.
During this time of year, another favourite shop is a tiny wine, food and interiors outlet as witnessed by my frequent Facebook status updates when I have just arrived from another whiz to Annunciation Square in Sliema. This year - and about time too - I discovered their tiny but quite perfectly-formed wine cellar and I cannot get enough.
Before anybody's minds start running with them, please note that the best discoveries have been bottles that retail at a ridiculous €7. This is only possible because the owner, a man called Franco Camilleri is, again, in love with what he sells. At any point of the day, he will open a bottle and give everybody - including the staff - a liquid treat.
Their spices, including impossible to find Shizuan pepper, are exciting and everybody that has ever bought a jar of the pistachio paste knows that once opened, it is impossible to let go of. It's low-carb to boot. I have now set my sights on this wine-smelling kit which they stock (I am too scared to ask for the price) and in the meantime, I will continue to devour their outrageously gorgeous chocolate truffles which they only stock in the run up to Christmas. From what I've managed to glean, they actually fly to Sicily to source them from a tiny producer there. I have very lucky friends: they're all getting a selection this year, courtesy of moi.
If I want to do the kind of technical, focused, pull-everything-off-the-rails and buy 10% kind of shopping that only women and gay men are capable of, then I go on my own. Or with the Gay Best Friend. This, I find, has saved countless arguments with TW which usually result in my hurrying guiltily inside and him fuming and smoking outside.
So, for solo shopping, I seriously suggest getting a cheapo airline ticket (cheapo does not mean 'low cost', especially if you have no plans to pay for every single gram of checked in luggage) and dashing up to London where Primark in Oxford Street has been consistently dazzling the crowds. 'I would have credited you with more taste', a reader, obviously a man, told me last week during a discussion on planetmona.com. 'Taste' is a much misconstrued term. On my way back from Paris a couple of months ago, two passengers were wearing head to toe designer, recognisable, wear. They looked awful, sad and desperate and the Gucci and Chanel didn't help.
I like to mix and I'm not the only one; Grazia magazine is witness to this, week in week out. On any given Winter day, I will very probably be wearing jewellery from India or Africa, tights from Wolford (more expensive than most people's entire outfits but not obvious at all), shoes from Christian Louboutin and a dress from H&M. You cannot compartmentalise people or their tastes these days - the point is that the outfit looks good together. It's how we live now.
Which is why, in the run up to Christmas, we also get a food revelation that has been simmering slowly on the back burner for the past year. The coming together of Julian Sammut, ex Rubino, as Managing Director, and Hani Harb, ex Ali Baba, as Executive Head Chef at Vecchia Napoli, ex Pastamania, is like a match made in Neapolitan heaven.
There's nothing really heavenly about Naples. Earlier this year I wrote about Roberto Saviano's Gomorrah, and boy, once you're through that book, you really do not want to go to this part of Italy. I even stopped buying mozzarella di bufala. This does not seem to have stopped Julian, who has always been besotted with anything Mediterranean. We turned up on a weekday and the place was packed. They don't take bookings, which is superbly frustrating, but they have employed a fantastic team of people.
Roberta took my call. I cajoled, and whined, and explained, and she finally accepted - against Julian's directions, one presupposes - to hold a table for us. I didn't say 'I'm Mona'. I'm not an idiot. I gave her a fake name, as I do all restaurants. I just mentioned we were tired, and would be going straight out from work and Roberta, because she's good, fixed it. Well done.
Once there, we were faced with pared-down tables, wooden chairs, and perfect lighting, a fusion of rough Italian pizzeria-style ambience with Sliema chic-ness. Then we got the menus.
'Whoa!' I told TW. 'This is the real thing. They actually call a marinara by name'. that is, tomatoes, garlic and oregano and not some disgustorama of frozen shellfish and plastic seafood. I had a pepata di cozze to start off with, and the pepper just jumped out and punched my tongue in the face. They're using rope-grown fresh - nothing is frozen. TW's parmiggiana was so moreish it was worth every minute we waited for it. There is the real focaccia on the side. Unlike in Italy, you don't pay extra for it. Oh, and the chances of being shot as you walk out are quite slim.
The selection is stunning and as far as TW and I were concerned, the standards we were comparing them with were sky high: in Malta, we juxtaposed them against Cuccagna's. 'This is better' I told him when I got my Calzone Capo di Monte (the most expensive exemplar at €10.45). 'This is not just better. This is going to make me cry'. Believe me; it was not just the Aglianico talking. Incidentally, they should increase their selection of wine by the glass.
The trick is one that all wondrous Italian pizzerias know: to use a different base according to the topping and not just expect all to adapt, no matter what the weight or the moisture content. The best pizza in the universe, as far as I'm concerned, I eat at the Pizzeria Florida in Piazza Torre Argentina in Rome each and every time I am there. Like the pizza at Vecchia Napoli, it has a sharply crisp base, but a puffy sides and top. I adore it. Coming from someone who has written an entire low-carb food book, you know that that's really saying something.
We tried the Del Sud, with aubergines, grana and basil. Then we went for the Dolce Amore, with its unctuous sweetness of mozzarella, pears, provolone piccante, honey and thyme. Holy moly. We even had the Vesuvio which really looks like something has erupted, piled as it is with mozzarella, parmiggiano, emmenthal, fontina, italico, rucola, trevisana and grana. Phew. What a mouthful. And what a bellyful too. We could hardly walk afterwards.
Hani made an appearance. 'Only I and the other pizzaiolo know the ingredients of the dough' he told us. 'If we die, the recipe dies with us.' Harrumph!' we fumed. 'What's for dessert?.'
I did not like the idea that dessert was bought ready from southern Italy. That is, until I saw the list, which, like most posh restaurants, is presented separately. No stupid frozen lemons here. Oh no siree. Rather, a torta di ricotta e pere with hazelnuts and whipped ricotta, and a tramontina: puff pastry baked with extra virgin olive oil, filled with cherries and creamed ricotta, topped with peaches and rosemary. Apart from tasting absolutely divine, they come in decent portions rather than Ta' Soldi ones. Even the espresso is perfect, as you would imagine. Please don't embarrass yourself and ask for a cappuccino after all this.
I'm in love. You have to forgive me. A year of French cheese, world-wide wines, Sicilian truffles and Neapolitan pizza. It almost makes putting up with Malta's madness worthwhile. Can you blame me? I'll see you in the queue.
Agree? Disagree? Let us know on www.planetmona.com
---
Any comments?
If you wish your comments to be published in our Letters pages please click button below.
Please write a contact number and a postal address where you may be contacted.
---


All the interviews from Reporter on MaltaToday's YouTube channel.
---
EDITORIAL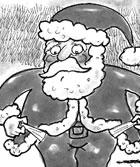 Lights out for Christmas

---
---