If there is a man who has silently and unassumingly shaped Maltese journalism single-handedly, it is Joe Mercieca.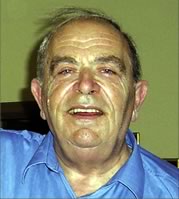 From his cluttered little office that he shared with fellow lecturer Gorg Mallia at University's Centre for Communications Technology, Joe – as he insisted with his students to call him – conducted his silent revolution with hundreds of students.
His classes always full, Joe would capture the young aspiring journalists' imagination like a skilled craftsman who introduces you to the tools and the tricks of the trade, inspiring enthusiasm and childlike curiosity to delve deeper into the world of journalism.
For Joe, journalism was a craft that had to be passed from one generation to the next through the teaching of established rules and methods. But he also radiated his passion for the profession through his disarming smile and penetrating eyes with a glint of mischief.
"The power of questioning," he would repeat to us between one mock press conference and another, prodding us to dig deeper and come up with every question possible to write our stories. "Keep asking, keep questioning everything." A great question, he would tell us, leads to a great story.
Every great story requires a great storyteller; Joe would give us the tools for that, from the basic four W's and one H (where?, when?, why?, what?, how?) to the inverted pyramid where you start reporting the immediate newsy facts in a telegraphic manner.
"Chop off dead wood," he would tell us, thesaurus and dictionary close at hand, as he butchered our writings with his red pen, gently – and never patronisingly – imparting the rules of concision.
Always unconventional in his presentations, he would pepper his lectures with personal anecdotes, with students following him out of class to his office eager to hear more or to speak to him personally. Like when he recounted to us how he was the first journalist to get a photo of Archbishop Makarios in 1974 in Malta, confirming that the Cypriot president was still alive.
Typical of his personal aloofness – despite his minute attention to detail to the world around him – he had gone to a reception at the American Embassy a week before it was due. As he was leaving the building, slightly embarrassed at the daft mistake, a CIA officer whom he knew stopped him.
"What are you doing here, Joe?" the officer told him. "You should be at the airport."
"His wink made me realise something important was bound to happen," Joe would tell us years later.
Indeed, after hours waiting at the airport with his camera, he had the story that made headlines worldwide; proving the Makarios, who had disappeared after the Cypriot coup, had just landed here on board a Royal Navy helicopter. Joe got the story and the picture, which he sold to Reuters, in what was the first draft of history, as he would tell us about the very nature of journalism.
Every hour was students' contact hour with Joe. At his coffee-stained desk full of illicit smoking clues, Joe would continue correcting, editing, proofing and marking students' stories, but he would set aside anything to have a chat with a student who would go to meet him.
Like so many others, I owe much of my journalistic life to Joe. When I was still a student of his, he introduced me to the editor of The Independent after I had stumbled upon a story that was too big to be confined to a class assignment.
It was the summer of 1998, that long, hot summer when Alfred Sant – then prime minister – did the unthinkable. Still a student, I found myself at the deep end of journalism in my summer job, in one long addictive adrenalin rush. Day after day, I was accompanying experienced journalists in our bid to cover where Sant was heading to and what Mintoff was up to. Night after night, we would write our stories as we uncovered what was happening behind the scenes.
Here's my little secret: Anxious as I was to please the moody editor, I would print out my stories and show them first to Joe, who worked at the upper floor at Standard House for the Sunday edition of The Independent. In those moments, I would get some of my most important lessons in journalism.
Smoking a cigarette as he went through my copy, he would make me doubt my stories, leaf through my notebooks, rewrite the lead, get back to my sources, and go back to the drawing board with even more questions. "So what?" was the question he would make me ask whenever I was overenthusiastic with some off-diary story – the ultimate downer to any journalist keen on selling his piece, the one, disarming test of relevance. But he would not do that to kill the enthusiasm, he would make me work more on the story, tie the loose ends and answer the remaining questions. Down I would rush, write the story again, print it, and sprint back upstairs to get his feedback amid more cigarettes and coffee for both of us. As the days passed, he became my secret confessor whom I could trust with the most confidential of information and complex ethical dilemmas in the years to come.
A journalist of the old school, Joe would teach me, and so many others, how to deal with the daily battle for information in his principled but pragmatic ways; cajoling sources where necessary, going around brick walls of silence imaginatively, grilling interviewees relentlessly when they owe explanations, but always protecting sources at all costs, reporting fairly and accurately, always bearing in mind that the journalist owes his loyalty to the reader.
Of course, Joe knew full well the trials and tribulations of a journalist. Himself fired unfairly from The Independent in their insensible cost-cutting exercise shortly after Ray Bugeja was sacked from editor of the Sunday, Joe had no disillusions about the job. If anything, it made him more humane, down to earth and understanding, albeit at a very high personal price.
Despite the hardships, Joe remained a beacon for his students at university, a kind gentleman and a veritable mentor who shaped so much of today's generation of journalists, encouraging them as they go along and giving his experienced advice when faced with difficulties, be it professional or personal.
Heavily under-resourced and his classes over-subscribed, Joe still gave every story written by his students the attention it deserved. In 2001, he launched – on his own – CCT News, a news agency run by his students supplying stories to the mainstream press. For many, it was their first step into journalism, making headlines on The Times and The Malta Independent under Joe's coaching. Unfortunately, the lack of resources and support meant the project was short-lived, as the communications course keeps expanding in other areas at the expense of journalism.
His unexpected death last Thursday, aged 63, has left so many students and former students at a loss, although his lessons, inside and outside class, will remain imprinted on so many people's minds. The real tribute university could give to this man is by reviving the journalism course in his name, in his spirit, and relaunch the students' news agency with the resources it deserves, as good, young journalists remain in short supply.
Survived by his wife, Therese, and children Karl and Katia, Joe's demise leaves Maltese journalism without an essential reference point for so many of us who grew under his wings. I, for one, will be laying the paper to bed less comfortably.