When I found your request in the morning, a few hours after you passed away, I started re-opening all your emails, forgetting for a moment the work pile. I saw your persistent line of questioning, remembered your reportage and relived your phone calls. At one point I believe I even heard your voice. You came across again through this sterile screen. This time, yes, but now no more.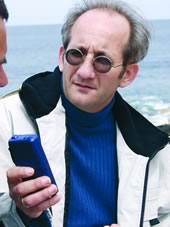 For once, please allow me to break with formality. Over the past couple of years we have both come to know each other a bit more and I have come to appreciate your zeal for the environment. You were truly a Friend of the Earth and I hope that that torch will find a worthy successor to bear it.
Most frequently yours was the vision of the optimist and mine the vision of the realist. Both positions were not always compatible but I always felt that, however critical you were, your desire was for a better future for all. That is one thing we shared. That is one thing I will remember.
For it haunted you that authorities might try to avoid or evade public scrutiny. Your constant vigilance was born out of a fear that the past might repeat itself and that who you know might be more important than the common good. Fortunately you were not in the position of having to regulate that common good. You were therefore able to keep your vision for the future unsullied by the tug-of-war conducted on our landscape, something which this Authority has to seek to keep in some sort of balance. There we agreed. We disagreed where the needle of the balance should rest, but then that is the spice of life.
So, colleague, farewell. Although we were never close, I wish to honour your commitment to your beliefs and your unceasing fight for your vision. Through your work, together with others, the momentum was generated for the creation of an authority to plan and protect. May your example shine on.
Sylvana DeBono
PRO, Malta Environment & Planning Authority
The President and Council of BirdLife Malta express their shock and sorrow at the sudden loss of Julian Manduca, a friend, colleague and well-known figure in the Maltese environmental lobby community.
Julian's personality was synonymous with a sustainable way of life that respects the environment.
The President and Council of BirdLife Malta extend their condolences to Julian's family and closest friends.
Joseph Mangion,
President, Birdlife
Ta' Xbiex
For so many amongst us who knew Choppy Julian, a bright light has been spent. Grappling incomprehensibly with the mystery of life and death, the memory stays of a gentle man who, despite the modern materialistic pressures that bear upon us all, stood fast in his ways.
A true environmentalist with a devout belief in the dignity of life, be it man or beast, his nobility lay in his honesty, his work ethic, his concern for social justice and his spiritual love of nature. He has returned to the warm earth that cradled him. He has gone and left us all the poorer for it.
In death may he nourish our world like the fallen leaves enrich this fallow land he so loved.

Christian and Gaby Holland
Naxxar
It is hard to think of anyone in Malta who worked more tirelessly than Julian Manduca without any regard for ego, attention, career advancement, power, partisan loyalty or money. The only goal that he pursued was to see Malta become a better place for everyone. It seems trite and platitudinous to say it, but it is the simple truth.
Sometimes it is almost as if there are those amongst us who suspect that, deep down, environmentalists like Julian must want all the plants and birds to themselves. There is a nasty projected pettiness in the national psyche that dictates that everyone has a personal angle to everything they do. The likes of Julian could never fit into that view of things, though I know that he would cringe now if he could read this.
How many must have sniggered and sneered at Julian's insistence on using public transport. It is hard to think of any other nation in the New Europe where any sort of environmental conscience is equated with eccentricity. I suppose these things were always going to be an uphill struggle for the likes of Julian, but one which he embraced.
Anyone who perceived Julian to be a humourless idealist zealot could never have met him. He had a great warmth about him and a finely-tuned sense of self-mockery, often referring to himself as an "ageing hippy". I once remarked to him that a mutual friend had said if it wasn't for people like him (Julian) to hold Malta's political classes back, they would go completely overboard in bulldozing the environment. Julian was characteristically harsh on himself and laughed out loud.
I hadn't seen Julian for two years before he died on Tuesday night. I went abroad and we lost touch. I always thought that Julian was the type of person who might have been happier if he had moved abroad permanently. But then maybe that would have been a form of defeat and an act of abandonment to a country that he loved so deeply but with a little sadness. What a tragedy that he died so young and did not live to see it become what he knew it could if people would only look further than their own noses.

Matthew Leonard
London, UK
Julian Manduca, ic-Choppy, as his friends endearingly knew him, was truly one of a kind. He left us this night, much to the disbelief of his myriad of friends, colleagues and admirers.
His strong environmentalist beliefs never just lingered as spoken words but were turned hastily into action – incessant activism for want to make this world a better place for all. His constant efforts in the environmental sphere are indeed the greatest contribution he could have given his country – an inspiration for us all. He never minded being branded as some green warrior, as his convictions were always as strong as his relentless search for the truth later on as a journalist.
May he rest in peace and may today's youth follow in his steps and fight for what is right and for those who have no voice.
Rest your mind, we will be continuing where you left!

Annalise Falzon and Martin Galea De Giovanni
Nature Trust