Composer Ruben Zahra is making a name for himself both inside and outside Malta and has composed soundtracks for films in the US. Among his credits are two features called Spanish Fly and Skeleton Man, a short film called The Mexican Kiss and a documentary by the name of An American Diary.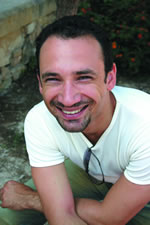 Ruben has been active in Malta, the US, Italy and South Korea where he worked as assistant composer to Mro Nicolò Iucolano on the opera L'Ammiraglio Yi Sunsin. His public birth in Malta came with his involvement with Etnika, when he composed a score based on traditional Maltese music for a contemporary audience.
Zahra's work has been covered by the US media: "Zahra blends the drama of Classical with World Music and even Rock n'Roll to produce a sound that's singular and poignant;" TAXI - The Independent A&R vehicle, Los Angeles (2002) and "instrumentation is incredible … Very intriguing … Demonstrates excellent compositional skills and an inventive approach …" (Rootsworld Magazine).
You may have first come to the public's eye when you found and prepared the musical scores for Etnika? Can you tell us briefly how that happened?
It all started with Guzi Gatt, one of the founding members of Etnika, together with Steve Borg, Andrew Alamango and myself. Guzi had been researching the zaqq (Maltese bagpipe) for a while and approached me to help him channel this research towards the practice and performance of the instrument. My concern as the composer of Etnika was to feature the traditional instruments and the music on a contemporary platform. I did not want to compose a soundtrack for archaeological nostalgia. I created a repertoire that communicates to a contemporary audience.
You are a composer and musician, in what other directions is your artistic life going?
I am a classically trained composer, but I use this status as a springboard to explore a variety of artistic territories. I'm currently getting some attention from international music festivals and ensembles to feature my repertoire. I just returned from Germany where in Munster they set up a festival to perform the music of composers from each one of the ten countries that joined the EU in May. It was wonderful to spend time with other young composers from all these different countries and represent Malta on an international platform. I have many ideas for probably every art-form that contemplates music: dance, theatre, installation, film, sculpture, book-art and more.
Do you find you have to support yourself financially in other ways?
Wow that's a rhetorical question! To me the most important currency in my profession is passion. If I'm passionate towards my work then it's worth barging ahead and everything else (including financial support) falls
into perspective in the yard-stick of social values. However passion does not pay the bills! so yes, just like any other artist I do have to support myself financially in other ways. Sometimes people think that this is a Maltese problem, but it isn't. I never met a composer or a musician that performs his/her craft without having to latch on to some form of institution for a pay-cheque.
Briefly what have you been doing since you left Malta some four years ago?
The day after we inaugurated Etnika in 2000 at the University of Malta I took a plane to San Francisco. I actually moved to Oakland, across the San Francisco Bay Bridge, to read for a Masters degree in music composition at Mills College. San Francisco is the biggest American showcase for world music due to the large ethnic communities from every part of the globe. I was still hyped up with the Etnika project so I created my own ensemble and performed in clubs, night clubs, art centres and Bay Area radio stations. When I graduated from the Mills College I wanted to take a shot at composing music for film so I packed my bags and took a plane to Los Angeles. Two years in Hollywood were like a roller coaster ride through the whirlwinds of the film industry.
Can you describe the work you have done with theatre?
Theatre has been a very important part of my formation as an artist. It all started when I registered at the University of Malta coupling Music with Theatre Studies for my BA degree. There I met John Schranz and I soon formed part of his theatre group; Gruppi ghall-Inkontri tal-Bniedem. Schanz's vision was to have a group of individuals with different artistic background that trains together on physical action. It is perhaps my most treasured single experience in art. I spent five years with the group until I decided to move to Rome in order to pursue my musical studies. The idea was that I would focus mainly on composition rather than my work as an actor. However, my practice in theatre has been a very strong reference whenever I collaborate with other artists. I love to work with dancers and choreographers and I don't limit myself to the music, I like being part of a process that shapes a performance.
Do you see yourself as aiming to entertain or is music all about mortals wanting to create the immortal?
This is a very difficult question because I believe that the artist does not seek entertainment or immortality. I am not an entertainer but if people are 'entertained' when they listen to my music, then maybe it also means that they are fulfilled. "…mortals wanting to create the immortal?"…we are juggling huge concepts here! The artist is not concerned with immortality. This is not some Brad Pitt, Achilles bogus at the shores of Troy swinging his prop sword towards immortality! I believe that the artist is impelled by the passion and devotion to his art. He responds to his own spur to seek perfection in his craft that leads him and his audience to the metaphysical.
You specialise in transposing traditional music into contemporary modalities, can you tell me something about that?
My interest in musical anthropology is to establish the framework on which I then construct new material. The Maltese instruments have a narrow margin of diversity. We have very few melodies for the zaqq and the instrument itself (like most primitive horn-pipes) has a unique, but constrained range. In this case variety can be created through a diversity of accompaniment. You can leave the original melody virtually intact, but lavish it by highlighting its unique characteristics by means of an illuminating accompaniment or by adding an introduction and conclusion. Hungarian composer Béla Bartók adopts this method in his research on folk songs and likens the technique to that of a jeweller fixing a precious stone in its setting.
What kind of music are you listening to and playing currently?
I listen to all sorts of different genres. I'm currently listening to Evanescence a lot. I got hooked on their album Fallen that has some wonderful string arrangements and very strong melodic hooks. Other contemporary bands and singers that I'm listening to right now are Sting, Björk, Marilyn Manson and System of a Down. I'm also spending some time with a CD from the Deutsche Grammophon 20 century classics series featuring the LaSalle string quartet performing works by Lutoslawski, Penderecki, Mayuzumi and Cage. As for my playing I started to practice the zaqq again because I'd like to research its technical potential and possibly expand it without changing any of its physical characteristics. This will be a work in progress that hopefully leads to new repertoire.
How do you react to the suggestion that classical music has become too elitist and intellectual?
It's very important to define what we mean by the term 'classical music.' Some contend that film scores constitute America's contemporary classical music – through this can never be entirely true since the music is propelled by specific dramatic needs. Yet crowds who would never attend a philharmonic program are familiar with the sounds of the orchestra from film and television. On the other hand, developing a predilection for classical music, or any art for that matter, requires a capacity for appreciation and not simply the quirk for entertainment. To quote theatre pedagogue Jerzy Grotowski; "Why are we concerned with art? To cross our frontiers, exceed our limitations, fill out emptiness – fulfil ourselves. This is not a condition but a process in which what is dark in us slowly becomes transparent."