The Head of the Health Promotion Department Mario Spiteri takes umbrage at comments that economic considerations should come before health concerns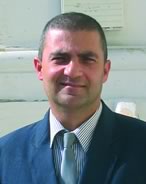 It was a shocking comment, the one made by a GRTU official this week that health does not come before the economy when talking about the smoking ban in entertainment establishments.
For the Head of the Health Promotion Department (HPD) Dr Mario Spiteri, the comment reflects a "short-sighted" view because smoking-related diseases contribute to the ever increasing public health bill.
"I can never accept the argument that the economy comes before health. If a person loses her health she would have lost everything," Spiteri argues.
"Where tobacco is involved we cannot kid ourselves. It is the largest cause of death and sickness. It is a major contributor to the country's burgeoning health bill. It is no excuse to argue against the smoking ban and to try and minimise the ill affects of smoking by referring to the power station chimneys and the hospital incinerator.
"These are bad but smoking is much worse because it is widespread and affects not only those who smoke but also others who have to suffer the consequences of somebody else's whims."
Spiteri is particularly sensitive to the issue of second hand smoke. He insists everybody is entitled to breathe clean air. "The Health Promotion Department has been campaigning for over a decade now highlighting the dangers of second hand smoke, especially in closed environments."
The GRTU leisure division is up in arms against government over the proposed smoking ban in entertainment establishments even though in April, regulations were postponed for a further six months to give operators a chance to prepare themselves for the change.
Regulations clearly stipulate that all public places have to be smoke free and operators can cordon off a designated area for smokers.
Operators in the leisure industry have, however, been arguing for a change in regulations. They want entertainment establishments to remain smoking areas with the proviso that air purification systems are installed.
But the HPD director has big misgivings on this line of thought. "It would make it impossible to enforce if the law stipulated that smoking could take place in bars as long as they had air purifying systems installed because air quality would have to be tested periodically.
"The easiest way to enforce such a ban is by making public places completely smoke free with designated and distinct areas for smoking."
Spiteri says that no air purifying system can remove all chemicals released in the air by cigarette smoke. He insists that the effectiveness of these systems is very relative.
"It is one thing having 10 people smoking in an area measuring 60 square metres and another thing having 300 people smoking in an area that is 100 square metres. As the law stands the owner is to identify a designated area for smoking and it must be ensured that no smoke travels to other areas of the place. There is no room for interpretation of this clause. Even if the law does not specify how large the smoking area can be, it is clear enough that the designated smoking area should be the exception not the rule."
Spiteri is neither amused by the argument that entertainment establishments will lose business because of the ban. "In Ireland a similar ban has had no affect on the leisure industry. There were some initial problems until people got used to having to go outside to smoke while drinking in the pub, but overall there has been no negative economic impact," Spiteri says, pointing out that the trend in Europe is to move towards public area smoking bans.
I ask Spiteri on the allegation made by the GRTU that government has performed a u-turn on what it had promised the organisation when discussions started in April this year.
"There was never a u-turn on government's part. If the GRTU was under the impression that the law was going to be changed to allow smoking as long as air purification systems were involved they were mistaken.
"The Health Promotion Unit was also involved in the committee set up by the Standards Authority to study the impact of air purification systems. We sat on that committee alongside other players including the GRTU, the Medical Association and others.
"Expert engineers could not find air purification systems that adhered to strict quality criteria. We did not rule out discussions on the issue and now that the evidence has shown that the results of any purification system are not satisfactory we cannot go along with what the GRTU is suggesting."
The aim behind the new regulations is to protect people who work in entertainment establishments and non-smoking patrons from second hand smoke. "But a smoking ban in public places may actually help to reduce the incidence of smoking in Malta," Spiteri says.
Current trends show that the incidence of smoking among males is on the decrease while the number of female smokers is increasing. Spiteri argues that smoking is a gender issue.
"I don't want to enter into polemics but instead of wasting time on criticising an advertisement campaign for a particular chocolate bar, which was very intelligent I must say, we had better tackle real and tangible issues of major concern. Smoking is one of them.
"Unfortunately, women are taking on the bad habits adopted by men and in 15 years time we may witness a dramatic increase in the number of female patients suffering from lung cancer."
With the high awareness on the harm caused by smoking, Spiteri believes that all social partners must practice what they preach. "Prevention is better than cure and we cannot simply talk about the harmful consequences of smoking without doing anything about it," Spiteri concludes.