You were a Sliema boy, now you have been living for a long time in Switzerland, do you still retain strong contacts with Malta and follow what is going on?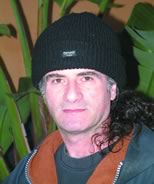 They say that once you've lived in a country until the age of nineteen your roots remain planted there...I find this to be very true! Nowadays I still manage to catch up with some main events and keep in touch mainly through my family and friends living on the Island.

Can you tell us briefly about the early days of your musical career?
I was born into a musical family. Both my mother and my eldest sister Edith played classical piano. Edith accompanied the Ballet 'Swan Lake' at the Manoel Theatre when I was still very young. My father had a strong tenor voice and regularly sang the whole Gregorian Mass to the beautiful accompaniment of the huge church organ, violins, cello and choir at St.Gregory's. That's where I took my first initiative towards singing in public....I clearly remember it was all very emotional! Often our whole family would break out in song and improvise harmonies after meals...just for the fun of it, and this was good for digestion!
My sister Helga now sings in a huge choir in Sydney.
My repertoire of soul, pop and rock'n'roll songs was already quite vast at a very early age thanks to Redifusion and BBC Radio and the old Pirate Station 'Radio Caroline,' but not omitting the fact that the juke-box in the 'Wild Swan' bar on the corner of the block where we lived was well stocked with the latest singles ranging from Ray Charles and Otis Redding to Little Richard, Elvis Presley, the Beatles and the Rolling Stones. That old Wurlitzer played day and night. All through the summer teenagers from our neighbourhood met their sweethearts for drinks and they wore jeans and winklepickers and combed their hair back. They danced rock'n'roll in the tiniest space imaginable...maybe for the very first time!
And those were the earliest days of my musical carreer because that's how early I caught the virus ha,ha !

You have been the frontman of several groups including Tea, Krokus and Warrior, but Krokus remains your mainstay...what made that band more successful than the others?
Well I think the combination of this uncomplicated boogie and blues orientated hard rock, mixed with strong vocal melody lines that stick in your head, is the main reason for Krokus's success.
Of course other factors were also essential for our success like for example "having the right band and product at the right time." When I joined in late '79 it was because I felt I could express and expand my vocal style very well within the context of the music .

Throughout your now long career what were the high and low points?
It would take a whole book to expose the complexity of my very adventurous life as a rock singer, but let me just say that I often felt like a kind of Robinson Crusoe. I went through periods of poverty, isolation and homesickness and on the other hand material abundance and physical overexposure which in the end made me seek peace and tranquillity all over again. Luckily, a solid upbringing in Malta helped me stay on course, and I found friends whom I could depend on.

There are several myths that follow rock bands and especially male frontmen, including those of starving artists, more than admiring groupies, jealous girlfriends, problems with over enthusiastic fans? What can you tell us about your experiences?
The beginning is incredibly hard, but youth overcomes obstacles with greater ease and you can afford to live for that day!
The groupies were a part of the game...you took 'em or you left 'em. When you're young you tend to want to flirt around until you find the one you really love.
A jealous girlfriend is like poison to a band...nothing but drama...impossible!
There's no such thing as 'over enthusiastic fans.' Enthusiasm is an essential part of life and that's what's so good about Rock-Concerts. Our fans are expected to join in and participate in the gig with their full enthusiasm.
Rock Concerts are a healthy release from daily tension, frustration and pent-up emotions. A good rock-concert is like a valve that releases pressure…it allows pressure to be released before it turns into aggression.
I love high-energy performances where the crowd gets going and love to hear them all singing along in one united voice. Why it's almost like a great game of football.

Of your recorded music which do you consider your high point and why?
I had more than one high point recording wise: The second album I did in my life was 'The Ship.' This was when I sang in Tea, the only Swiss band who ever played in Malta and Gozo in the early seventies. This album was very special to me from a creative point of view .The whole band was living on a farmhouse out in Emmental and Philip (keys) and I came up with most of the song material out of long jams which lasted into the early hours of the morning! Then we'd trample down to the pub for breakfast and go to bed....a 'topsy turvy' period, but the music sounded good and there wasn't a soul for miles around.
Doing Krokus's 'Headhunter' was also a high point:
We were stuck out on our managers farm in Arkansas. It was the height of summer and we had set up all our musical equipment in this huge warehouse with a running reel to reel to catch all the new ideas. In between
Sessions some lay in the pool or in the stream and I enjoyed taking the black stallion out for a daily ride on the surrounding land.
The songs came together like magic and my favourite to this day is still the rock ballad 'Screaming in the Night.' I remember how the melody and lyrics came so effortlessly and I also remember the thoughts that went through my head during those moments...pure inspiration!
My latest recording high points were doing Krokus's last studio album 'Rock the Block' in 2002, and Warrior's new one 'The Wars Of Gods And Men' in
2003.
How have your own musical tastes evolved over the years?
I have kept my ears open for new sounds and influences over the years but must draw a line by saying that most of the stuff I heard had all been done before...mostly in a better way, during the 60's; 70's and the 80's!
In other words, for a while I felt the urge to go underground in order to retain and enjoy the pleasures of the handcrafted music I so much love to hear.
I mean Classical Music too still sounds as good as when it was written many years ago!

What are you doing now and what plans for the future?
Right now I'm lucky to be riding on the wave of the so called Hard Rock and Heavy Metal Music genres. I just got back home from some 'hot shows' in Austria and Germany and shall kick off some gigs in Switzerland. We're slowly heading into the massive Summer Festival Season. In between we shall stay busy writing the odd song towards our next studio album which we shall release in 2005.
Warrior's Album will also deserve a promo-tour sooner or later! One day in the near future I intend to finally record and release this solo album I've been writing…on and off! Rock On!