The men behind Vascas speak to Matthew Vella on what led them to the success they enjoy today.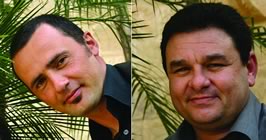 Arthur Castillo and Mark Vassallo are part of a success story that today carries the name Vascas, an acronym of their surnames and the mark of quality that is one of the island's finest jewellery enterprises. There are little signs of their fast climb to success. At the Naxxar headquarters where they conduct business, Arthur Castillo, 33, enters the elevator and ascends together with me to the office floor.
Few words are exchanged. I don't recognise him. In the office where we are formally acquainted, it is almost comic to interview somebody you have just been with in an elevator seconds ago, decked not in the telling signs of a busy entrepreneur. His assistant takes great pride in remarking this fact, harking on how Arthur and Mark almost appear to be incognito at their workplaces, cutting deals and doing business without suits and ties.
Arthur forgoes his day off to get this interview done, suspending DIY schedules at a list of Naxxar houses which form part of his pastime, renovating and decorating them back to life. A shy, retiring person, Arthur shows signs of a reserved person. Arthur says he is not an extravagant person. He will not go for anything that doesn't fall within the value-for-money range. He prides himself of his convertible Minx sports racer but it stops at that and most of the time is spent in the company of his family, or getting busy with the DIY.
"My parents separated in 1963. That was something of a scandal on an island like Malta. My mother left for the States. I was still two years old when my father took me with him to Australia and later New Zealand. It was a good eight years until I returned back to Malta, to stay in with my grandparents. When I was 16 I left home to strike it on my own. The age difference was a determining factor in me leaving home.
"From a young age, I always wanted to get into business. My family wanted me to take up a profession, a lawyer or a doctor. It was not for me. When I was a kid I was always interested in business, taking care of the tuck shop at school for example.
"I left home with my sister, in a house given to us from the housing department. Since then I have always fended for myself, working all kinds of jobs. Mainly catering, working as a waiter or a barman."
It is with satisfaction that Arthur remarks how success with Vascas has vindicated his own reasoning about how he wanted to lead his life, away from the rigidity of a professional career, as somehow expected from his family. "I have two children. I am ready to back them all the way with what they want in life. I don't want to spoil them. I want to instil in them a sense of responsibility. They don't get pocket money, because I want them to earn their money, assume themselves with a responsible attitude, work hard at school, that sort of thing.
"There is nothing to prove really. I worked hard to earn money. I work to be comfortable. I don't buy anything to show off. I work hard for my family and my children's education. It is a simple philosophy. There is just nothing to prove, and it is true that empty vessels make more sound in this kind of world."
Stringing a series of jobs in the holiday business and timeshare, Arthur finally touched upon the world of jewellery when he took up a job in a family business, selling jewellery. "I was happy there but I wanted more than that. I thought there were certain loopholes in the system which were big money-makers. That was when I eventually teamed up with Mark."
Mark Vassallo, 36, father of three, is dressed in leather jacket, appearance jarring with that of Arthur, who doesn't even wear jewellery. "I don't think I have the charisma to wear jewellery. You need a certain personality to wear certain items," Arthur says.
"Arthur and I met through business," Mark says. "I first used to work with my father at a hi-fi shop. One day I left following an argument, and ended up working as a barman in Paceville. My wife's family were gold manufacturers and I started working in their business. I spent eight years there. Arthur used to visit the shop in Valletta frequently on business. Both of us worked with our families.
"One day Arthur made a mistake, selling me an extra Lm500 worth of gold without realising. I phoned him to tell him of the mistake, and he came back. He told me nobody would had ever told him of such a mistake. We became good friends thereafter. Since I knew he dealt in farmhouses, I decided to buy one off him."
In 1996, the two decided to strike it off on their own, together, leaving their respective jobs with their families and setting up office in Arthur's house. "I sold my two cars to start off the venture," Mark says. Their first deal resulted in a grave error, having bought the goods at around 30 per cent more than its value. Making ends meet and ensuring good sales meant pushing down the profit margins.
After a few years sweating through the birth pangs of their business, Mark and Arthur set up shop in a little office. The word spread and the wholesale venture grew bigger.
Mark's father was a grocer, a man of family and religion. His upbringing was based on values. "I always used to say my father was a strict man. As a child I could never afford the things I wanted. But today I appreciate my father's sense of fatherhood towards me. Growing up, looking to lay down your roots, it was so easy to take the wrong road. I was facing that kind of destiny sometimes."
Mark speaks about success much in the same way as his partner. His extravagance is horses, a passion both him and his wife share. At the moment he has had to lay off the horse-riding due to injury, although it looks like he'll be back to enjoy yet another game of polo.
"Today I try to give my children that same kind of value to life my father gave me. Religion plays a part in their upbringing. It is very important for me as well. It is an important part of my life. After I got married, I felt estranged from that part of my life. I rediscovered my spirituality through a group of friends who met frequently to pray. My life has changed again since then. It makes you stop and think sometimes. Sometimes I think I'm in the wrong business."
Mark says there's a certain ruthlessness within the job which he doesn't always subscribe too. Arthur is more of the go-getter, as Mark describes him, a more gutsy character whilst he tends to stop and think before taking the dive. But it is this complimentary relationship which the two say keeps them together in this business.
"Some of the business is left in Arthur's hands to this extent," Mark says. "He tells me, don't worry, I'm going to hell for you."
"It is a high-risk business," Arthur says. "When I first started out in the business, I would travel around Italy with thousands of liri in merchandise. Driving around with that kind of merchandise was a risky ordeal. We are not buying cheescakes here. There are thousands which go in buying and selling. A mistake can cost us hundreds of liri. The price of gold changes everyday, and you must have a feel for the market. You have to know what to buy, what you know will really sell in Malta."