| | |
| --- | --- |
| | This Week • February 22 2004 |
Looking for his soul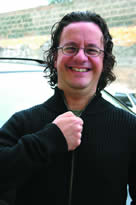 Malta's rock scene over the past twenty years has had its ups and downs, but one of the people who has invariably kept the flag flying is Ronnie Busuttil. Ronnie's was the front-man of two standard bearers the Flying Aligators and The Refugees. Like every musician Ronnie dreamed of making it big internationally, and once came pretty close. But in Malta his bands are legendary. Ronnie still feels his best days are ahead of him and you can catch him every Friday (solo) and Saturday with The Refugees at BJs in Paceville.
Ronnie also plays with Boris Cezek of Refugees fame at Sprachcaffe in Pembroke, Cilantro in Mgarr and Maestro in Valletta.
Can you tell briefly about the early days of your musical career?
Used to sing in School and Church choir...blush...Not quite a career beginning but it was a start! Always felt safer singing in a crowd and that extends to a band too now.
Picked up a guitar and learnt to play at age 15 with help from sister, brother and friends. Got into bands straight away. Was heavily into The Beatles. First proper band was Rhythms of Vision back in 1983 with brother Bill and Gilbert who was later the drummer in The Flying Alligators. I was just a guitarist and backing singer then. We had some real original numbers and loads of fun. It was difficult for bands to get any paying gigs in those days but I learnt a lot about how a band should sound and feel.
Spent some time in Australia and came back motivated to start a band as a front man. That eventually turned into The Flying Alligators….
The Flying Alligators were a leading band in Malta...what were the high and low points?
The Flying Alligators were formed in 1987. It was a slow build up till 1990. Then brother Bill and Paul Zammit Cutajar - who people still think is my other brother! - joined and we kind of exploded. It all happened so fast and people were really buzzing around us. We went from a virtually unknown band to the most requested act. We backed Joe Cocker in August 1991 and in 1992, after recording and financing our own CD, came very close to signing a deal with A&M records in London…very close…it went all the way to the MD who turned us down in favour of a UK based band. We split after that. We should have stuck it out but we were lifted so high the fall was quite hard….
You later had The Refugees...what are your fondest memories?
Boris and Ivan Cezek were genuine refugees who had been trying to jam with me at BJ's for weeks. I was so fed up of really bad jam sessioners (mostly drunk foreigners!) that I refused to let them near me. Eventually they decided to just get up on stage and play anyway. They had cunningly learnt all the songs I played including my own! How could I refuse? (Ah the music, Ah the laughter!) These guys were really good. They could play anything in any state! We drank Faggy (Philip Fenech) out of Jack Daniels week in week out! They were slightly crazy days but good fun.
How would you compare the two bands...what were the major differences?
Musically the Alligators were based on soul and the Refugees were pure energy. Alligators were soup and Refugees were stew. Refugees where concentrated Alligators. Boris, Ivan and I were very much the same wavelength. We just wanted to get the song moving…and ended up playing at 120bps!!! We had to. Being a three-piece band gives you a lot more musical freedom but leaves you with a lot of work to do to fill the space. I think we ended up exploring more directions as a result.
There are several myths that follow rock bands and especially male front-men, including those of starving artists, more than admiring groupies, jealous girlfriends, problems with over enthusiastic fans? What can you tell us about your experiences?
We had our fair share of all of the above. Boris was the one who used to attract all the weirdoes. Girl, boy, animal, mineral or vegetable, he got offered it. He just wanted to go home after a gig!
I did have a stalker though. This guy kept calling my sister saying he knew me and then he stopped me to ask a question in the street one fine morning. I found it very strange that anybody should be interested in the hidden meanings of an obscure song. I guess it takes all sorts and as we say in Malta, 'Il-baqra kollha tinbih,' (every cow will find a buyer).
Of your recorded music which do you consider your high point and why?
I have to say that our best work has yet to be heard. I always like to look forward and not back. I have to otherwise it would be difficult to feel alive as a musician and to evolve. Boris and I have been recording again (off and on) for the last year. Some of the stuff we have come up with is quite interesting to us and we hope that it will be well received. Advances in technology now mean we don't have to spend hours rehearsing and thousands recording. We just thrash it out on a computer and print it!
How have your own musical tastes evolved over the years?
You could say that my own tastes are devolving! Have you heard The Darkness? They rock! And I have been listening to AC/DC again since August 2002 when I saw a band cover Highway to Hell at Brighton's Walkabout Bar. Not many people would believe it, but I was always into Rush, Led Zeppelin, Motorhead and Whitesnake. They don't reflect in anything I have recorded. That's because I want to try something new to me and not recreate.
Having said all that I have opened up to all kinds of music. I can be perfectly happy dancing in nightclubs to techno, house, hip-hop, R&B, whatever. Tequila helps too! I love Latin rhythms. I was in Brasil (that's how they spell it!) last year and had the opportunity to watch many musicians play in bars and clubs. They are just born to play. The level of musicianship there is stunning. The melodic chords, the poetic lyrics, it all comes so natural to them. Lucky bastards! Wonderful people.
What are you doing now and what plans for the future?
Well, having just returned from living in the UK I am readjusting to the Maltese way of life. Recording goes on. Playing live goes on. Sometimes up to four gigs a week. We hope to release a single soon (March 2004) and maybe a full 10 song CD by July. There is always something to look forward to. At the moment I am writing a song about the spiritual/economical state of Malta because I think that the two are somehow connected. Without getting too political I think we have lost our soul. I have always been looking for mine.