| | |
| --- | --- |
| | This Week • February 15 2004 |
Living a dream
Jonathan Abel, a popular former part-time radio DJ and also a school teacher has put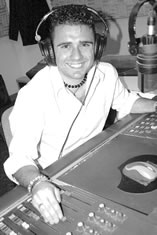 aside his teaching career to pursue his life long ambition - to be a full time radio DJ and producer. Jonathan now hosts the Bay Breakfast on 89.7 Bay, a prime spot on the station, giving a younger more dynamic feel to the show. Jonathan's musical preference ranges from from Dire Straits to Sting to the Goo Goo Dolls to Nickelback. MaltaToday caught up with him this week
Can you tell me something about your background?
I am an ex-student of De Le Salle College as well as an ex-teacher at the same school – the former for 12 years, the latter for just over a year! At the college I benefited from a very strong education which together with my home up-bringing, taught me much about the values of life and life itself! As soon as I completed the college Sixth Form - 2 years after going through a very tough personal change - I started living my childhood dream: going live on radio airwaves presenting my own show. Music has always been part of my life. I always dreamt of actually cueing the music to be aired on radio, hence playing it and working it! I worked for 3 years with one station and changed moving on to 89.7Bay. Simultaneously I was a 3 year University B.Ed. (Hons) student. On graduating the following year, I started teaching at the same college which had formed my early years.
One of my favorite shows is the countdown of the station's hottest tunes, Bay's Top 40. I still host this weekly. I had always thought: "What if I am offered a full time radio job one day?" "What would I do?" Well this chance cropped up a few weeks ago, and only a few days ago I signed up to be a full time radio broadcaster on Bay – a lifetime dream of mine and another great change in my life. My job is now to wake you up on Bay Breakfast!
What will you be bringing to your listeners when they awake?
A good mix of music to blend into the day, exclusive prizes as 89.7 Bay is the home of the biggest prizes, money for free, features regarding music, and current local and entertainment news and curiosities!
I assume you are a morning person...are you also one that likes to party late into the night? If so are you burning the candle at both ends?
Actually you are perfectly right, I am a morning person. I always loved to gain as much as possible out of the mornings. That's what I'm doing to an extreme one can say! Waking up at 4:30 am. Enough said! I leave partying for the weekend at the moment! If I burn the candle at both ends, I would let down my listeners and certainly act irresponsibly!
The airwaves are flooded with radio stations. Are they all jukeboxes playing the same music?
The worst, I think and firmly believe in, is when one has a station that has no direction. To a certain extent we do have a number of stations which play the same music and try to be like other stations. We have to keep in mind that our market is small and there is only so much one can do. As long as a station has it's audience and it's identity then I guess that radio station would be successful!
Do you consider yourself simply a Disc Jockey, or are you more than that?
I'd like to believe I am more than that! A disc jockey brings along with him, like in any other job, a personality, a character to share with his clients, in this case, the listeners. It is an every day communication process where the listeners become part of my life and close friends too. I am sharing the beginning of every day with them. I feel it's an interesting job and feel the responsibility too. There's a lot of satisfaction and this is reflected through the listeners.
Do you think that you have a 'political' - in the way you comment about society, women, other issues - role to play?
Definitely. I think that being honest with the listeners helps a lot though. If the listeners know me to a certain extent, know what I believe in, then they can interact and also interpret what I say keeping in mind the picture they have of me. Taking every subject from a wide angle helps a lot. That is what I do. You have to think 'everyone'!

What is the biggest on-air embarrassment you have had to suffer?
Not many I must say. I am the type to be very prepared and know where I am going with the show from beginning to end. Certainly, I have experienced technical problems – especially in my early days - which always embarrass any DJ, I think. Those are the only moments I can recall. Any moment like that puts me off, and I have to recover very soon!!
What makes you laugh and cry?
Observing people around me in a busy place, seeing how they react and what they're up to, makes me laugh many times! I observe a lot. A good movie, any good comedy works as well. Losing someone very close to me and important in my life, makes me cry.
What do you think is required to improve the standard of radio stations and programmes in Malta?
More professionalism and more professional station managers who know the market well. Also we should get rid of the mentality that anything goes and everything counts. We cannot accept low standards and cheap stuff any more! We should be proud of
quality!