| | |
| --- | --- |
| | This Week • January 11 2004 |

An angel gets to be a ref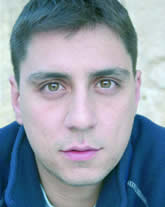 John Montanaro had peer influence to encourage him to step foot on the stage. His uncle, Alan, has been a, mostly comic, hit for many years.
Nephew John has started his acting career in earnest and ventured into TV, making a handsome duo with Mike Basmadjan in the ever popular 'Angli' series. Montanaro started his acting with a role in a musical version of Macbeth, and continued with HMS Pinafore. He took some of his roles in the past knowing that he had not much to do, but now has become so much in demand that he hardly finds time for an interview.
In his next role Montanaro plays the referee in a play about two working class English men who, like so many of their contemporaries, escape their relatively unremarkable lives by getting behind their team.
Although he enjoys his Angli role, Montanaro is always on the lookout for different opportunities, and you can catch him in MADC's God's Official, playing at St John's Cavalier, 11, 16, 17, 18, 23, 24, 25 January.
What first what inspired you to act, any family inspiration?
The opportunity came up to do a sixth form school production and I took it and got hooked to theatre from my first curtain up. When I was younger I never missed a Panto, and watching my uncle, Alan, strut his dames on stage did inspire me.

Do you get the chance to see theatre abroad? If so what do you look for?
I have watched a number of West End shows, and I must admit that I do have a soft spot for the big musicals. My favourite one to date is 'The Lion King.'

Are there actors (Maltese or world-wide) you admire?
There are a lot of Maltese actors I admire, we have a lot of talent on the islands. I must admit I do enjoy watching Jes Camilleri on stage. I've seen him in a number of different roles both comic and dramatic and he always excels. As for foreign actor it has to be Robert De Niro, enough said.

What would you like to see done to achieve a higher quality theatre and attract more people to the shows in Malta?
I think theatre has come a long way, with St. James Cavalier opening up giving us chance to experiment with theatre in the round. However, unfortunately I think we lack a proper national theatre. The Manoel is a great theatre and any actor who has worked there can confirm this, but we need a theatre that can be versatile with 1 or 2 revolves.
Of all the roles you have played so far which is your most memorable and why?
I have played a lot of characters, but the one that springs to mind is Gary in 'A slice of Saturday Night.' It was just a great fun part to play, he was a leader and a comic, sad and of course a playboy all rolled into one.

Your next play is Robert Farquhar classic 'God's Official,' can you tell me something about your role?
In Gods Official I am playing the referee, Greaves. As you can imagine he is not a popular guy, I can't tell you much as I want you all to come and find out for yourselves, but my character changes throughout the course of the play.

You are both a stage and TV actor which do you prefer and why?
First of all the 2 cannot be compared. They are two completely different forms of acting. But if I had to choose between TV and theatre it would have to be theatre. It's more real, you become the character you are playing completely you become immersed in a fictional world, feeding solely on the reactions of the audience. TV is colder but still has good points.
Is it correct to say that theatre in Malta is going through a new lease of life?
I think the future for Maltese theatre is very bright, we've got a lot of talent on this small island, and with all these theatre schools popping up I think it's here to stay.