| | |
| --- | --- |
| | This Week • January 04 2004 |

Our ceramacist from Cornwall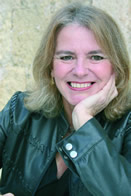 Ceramatist Zell Osborne came to Malta some years ago and has made a name for herself with her stunning pottery. Osborne follows Malta's art scene enthusiastically and is well known in cultural circles. Her current exhibition of rather fascinating and somewhat macabre art is on at St James Cavalier Centre for Creativity in Valletta until 11 January.
From Cornwall to Malta, what brought you here?
A Boeing 737 – sorry I couldn't resist that, having been asked this question so many times! On a more serious note, the answer is similar to most foreigners who end up settling here in Malta – namely, for a holiday. It happens that I have a lifelong friend, Vivien Fielding Refalo, who was and still is teaching contemporary dance here. She initially invited me out for a visit. Subsequently I met the then Director of Museums, Father Marius Zerafa, who invited me to exhibit my works at the Museum of Fine Arts. My first exhibition there was in 1986, followed by another in 1988. Then I was introduced to the late Paddy Stubbs and his wife Janatha who asked me to run the art/pottery studio at Ir-Razzett tal-Hbieberija which at the time was in the process of being set up – and I've been here ever since.
Has Malta changed the direction of your works and if so, in what ways?
That's a difficult question to answer because not being a 'psychic' I have no idea of what sort of work I would have been doing if I had remained in the UK or gone elsewhere. But my gut feeling is that wherever I happen to live my directions would have remained the same.
Which artists in Malta or abroad inspire you?
I remember being very much influenced by my lecturers at Cardiff College of Art, all practicing ceramicists in the different genres in the art of clay – be it throwing pots, modeling or slip-casting. At the same time I was very impressed by the architect Gaudi when I visited Barcelona way back in 1976. I am sorry I can't mention any particular artist in Malta or abroad as sources of inspiration although I admire many of their works greatly. My main inspirations come from nature and favourite books such as 'Microscopic Art Forms in Nature,' 'African and Native-American Art,' as well as visits to museums such as the ethnological Pitt Rivers Museum and the Natural History and Science museums in London. I am very inspired by ritual objects and natural formations in rocks and sand and sea. I was very inspired by the desert when I traveled through Arizona and New Mexico which also inspired the painter Georgia O'Keeffe.
Does your art reflect your world-view...or are you merely creating what you find beautiful?
Well I think I have sort of answered that one in the previous question. I am in no way a philosopher/academic so I'm not quite sure what you mean by 'world-view.' I just react instinctively and intuitively to all that I have described above plus the way clay reacts and behaves in the making process.
Some of the ceramics look pretty macabre, what is behind these pieces?
Yes indeed. Many times I have been told that a lot of my work looks menacing and frightening. I have no idea where this comes from, as those who know me well can testify (hopefully!) that I have none of these qualities in my personality. So just put it down to an outlet of the sub-conscious – better that than picking a fight with someone!
Pottery artist Grayson Perry has won the prestigious Turner Prize...what do you think of his work?
When first confronted with this question I had yet to see the work of the Turner Prize winner, having only seen photographs of the 'Shirley Temple' artist in the newspapers. After a brief glimpse on the internet I can say that technically it is very refined, being based on classical designs, although the subject may not be everyone's cup of tea.
Tell me something about your current exhibition and future plans
This exhibition is a retrospective of the work I have done since 1988 to the present day while I have been in Malta. My future plans are to start immediately working towards another exhibition, to hold some ceramic workshops for students at St James' Cavalier and carry on with my job at The Park of Friendship, working with special needs children. This requires some flexibility at times which suits my personality.