| | |
| --- | --- |
| | Top Story • January 04 2004 |

Man of the Year: Should he stay or should he go?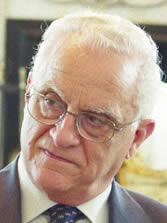 Large posters adorned Palace square as an impatient crowd of Nationalist die-hards awaited Eddie Fenech Adami. When he walked out onto the balcony accompanied by an entourage of aides and excited party 'reporters' hysteria broke loose and the walls of the Palace reverberated with the anthem of the 'Yes' movement.
The man who had sternly warned the Maltese against reneging on Europe had attained his final and arguably, most precious goal.
Or is it his final goal? One of the longest-serving Prime Minister and political leader in the Western World deserves to be crowned Man of the Year. It took this newspaper a small focus group of far from Nationalist cronies to come to that conclusion.
The Fenech Adami wardrobe is, however, not all thumbs up. Policies outlined in his 1987, 1992, 1998 and 2003 electoral programmes have taken ages to ripen. Some have been forgotten and others shelved.
The man who appears to be always reasonable and understanding, can, if he wants to, be stubborn and unforgiving. Fenech Adami is a seasoned politician with a good sense of political reasoning.
Dr Eddie Fenech Adami arrested the wave of Mintoffian politics in 1987 and replaced it with a sense of normality that was previously unknown. But the frailty of some his policies has angered and irked many of his core supporters. Many continue to believe in him as if he were some demi-God, and feel that if, and when, he leaves, there will be a political void. He retains, to some extent, the knowledge of his omnipotence, electing PN acolytes to chairmanships and other high positions of power, yet safe in the knowledge that he will be able to brush off the criticism levelled against him.
That thought alone suggests to some that Eddie Fenech Adami may not leave politics after all.
Over the next weeks, he will be faced with three important decisions, the first one concerns the appointment of the President of the Republic, the second is the appointment of a Commissioner for the European Union and the third is the question of leadership.
The three issues are intrinsically linked to his own future. Should he stay, or should he go, is undoubtedly ringing in Eddie Fenech Adami's head. In recent months he has reduced his presence at Castille and if things stand as they are, he will be losing the daily input of his personal assistant Richard Cachia Caruana who will be spending four days a week in Brussels.
His family urge him to slow down for his own good, but his immediate circle continue to talk of his strength and value as a leader. Their intentions are not wholly altruistic.
His departure or decision to stay will have a long lasting effect on the political and social developments of these Islands. One thing is sure, if he leaves after May 1, when Malta starts its long European mutation, he would have sealed his place in Malta's history at the peak of his long career.

The staunch Catholic who changed the face of Malta
Staunchly Catholic, bespectacled, of smallish build, the lawyer from Malta's largest town has continued to dominate the latter part of the last century and the beginning of this century in Malta. Refusing to take a rest from politics and believing that he alone can continue to lead Malta, he won four national elections and would have won a fifth in 1981 if the Constitution had allowed the party with the majority of votes to govern in the 1981 electoral result.
As the longest serving leader of any political party in the whole of Europe he continues to retain an iron fist over the Nationalist party he rebuilt after two consecutive defeats in 1971 and 1976. This was when the Labour party was led by one of Malta's mostly charismatic but truly arrogant political leaders, Dom Mintoff.
The little known lawyer stood for elections for the first time in 1962. He was co-opted to Parliament after the death of Gorg Caruana in 1966. Thereon he never looked back, electing himself from two districts in the last three elections and beating the first count votes record held by Dom Mintoff.
In the early sixties he was involved in the reorganisation of party structures, first as assistant general secretary and later as editor of the Nationalist newspaper il-Poplu.
In 1977, after years as leader of the party, an exhausted Gorg Borg Olivier retired, opening the way up for Dr Fenech Adami. Fenech Adami was swept to power with a two-thirds majority.
The campaign to take over the leadership is shrouded with speculation of back-stabbing tactics, but in the very end Fenech Adami kept his two leadership contestants Censu Tabone and Guido DeMarco as close confidantes, one serving as foreign minister and the other as deputy leader in 1987.
In the beginning Fenech Adami appeared diminutive compared to the theatrics and grandeur of Dom Mintoff. It was also a time when socialist extremism was slowly digging in and the Nationalist politicians were unusually tame and secretive as opposition.
Borg Olivier's sluggishness
Overcoming the sluggishness of the Borg Olivier years required all the focus and courage by Fenech Adami.
Borg Olivier had allowed Mintoff to run roughshod over the institutions. The decimation of BICAL, the nationalisation of the National Bank and Barclays and the haphazard 'socialist' reforms that imposed uncomfortable policies with the upper middle classes and eventually with the middle class made Mintoff a much-disliked figure. Yet, the anti-Mintoffian grouping could find no one to counter his wave of 'Nasserism'.
Edward Fenech Adami was born in Birkirkara in 1934. He read economics, philosophy and classics at the University of Malta and later law where he was called to the bar in 1959. He married Mary and fathered five children.
In the beginning the man did not espouse any special traits. He was neither a gifted public speaker nor a visionary. Neither did he stand out as some born leader that the country was yearning to follow.
Yet in his manners and speech, he unknowingly transmitted the perception that he was the long-awaited David that could take on Goliath.
Better still, this image of benevolence and goodness that spilled out from his character, tantalised the souls and hearts of the masses. And no matter how hard the Labour press attempted to paint of him his devilish Nationalist background, there was little that could stick to the man other than his very unimpressive lifestyle, his commitment to his family and his strong Catholic affiliation.
Here was a man who perhaps could and would prove everyone wrong and take on Mintoff.
Destiny on his side
If there has been one thing on Fenech Adami's side it had to be destiny.
It finally happened in October 1979. His small townhouse in Birkirkara was ransacked and his family terrorised. His elderly mother was terrorised by a gang of Labour thugs renowned to hang around Dom Mintoff.
This was his moment.
And it is in these moments that Fenech Adami proves himself. A call for solidarity led thousands to Birkirkara. This cruel episode provided him with a political performance that anointed him as the rightful leader. In less than one year and a half he was given the chance to transform the party structures and rally more volunteers to the party.
From a seemingly closed character from the parish of St Helen, Fenech Adami offered a comfortable communication delivery that was slowly but steadily reaching more middle of the road people at each and every mass meeting.
The Labourites could not help shooting themselves in the foot. A persecution campaign was unleashed that continued to inflate his stature. The drama facing the closure of the private hospitals regaled Fenech Adami with more political points.
The 1981 elections and convincing allegations of organised gerrymandering rocketed Fenech Adami into a Prime Minister-in-waiting. This state of affairs lent him credibility and in the following five years he won not only support from the small and big business class that had suffered under Mintoff but a growing number of committed admirers who hovered round him offering advice and blind loyalty.
These were the formative years for a statesman.
Undeniably there is little to show in the sense of direct advice and aid from experts in communication, speech control and organisation. But the fingers point to a link to the German CSU and the British Conservatives which were very willing to advise the Nationalist party. Nevertheless, in the end it was clear that 'Eddie', as he was to be known from now on, was a man of his own making.
Yet the 1981 election, followed by a string of violent incidents gave Fenech Adami a platform and the possibility of appealing in a popular and welcoming way. Fenech Adami simply promised that his government would halt abuses, bring justice in the country, stamp out corruption and violence and end the rule of Mintoffian arrogance.
Boycotting his name
National television did everything to help Fenech Adami by avoiding any direct reference to his name, contributing more to his turning him into a victim. His aides loved it.
Unknown to many, the stringent policies propelled by the Borg Olivier doctrine were slowly being scrapped. Though strongly critical of Mintoff's flirtations with Libya and renegade non-aligned leaders, the PN continued to portray itself as a socially conscientious party and one that was not a US lackey. Fenech Adami refused to picture himself as an extremist, ostracising his ever popular but rightist parliamentarian Josie Muscat to the sidewalk.
Mintoff appeared to lose out to more violence and corruption most especially in the issuing of permits in scandalous land deals.
Mintoff's decision to resign as Prime Minister and to install his puppet Karmenu Mifsud Bonnici led to a worsening state of affairs with the police. Led by former Commissioner of Police Lawrence Pullicino (later to be convicted for the brutal murder of Nardu Debono), the police carried out unforgivable actions taking law and order to new lows.
But if Mintoff had contributed to building Fenech Adami, KMB, as he was known to most, gave the Nationalist party under Fenech Adami a unique opportunity to launch the Work, Justice and Liberty (Xoghol, Gustizzja u Libertà) slogan with that unforgettable bang.
Political slogans reached new highs. But the Nationalist party had the edge with its campaign based on bringing dignity to the citizen. Private schools, job losses, an economy fuelled by a state-run economy married to nepotism and favouritism sparked a young electorate to look at the father figure of Fenech Adami.
The lion in Fenech Adami
With a murdered party activist Raymond Caruana, the lion in Fenech Adami lunged at the Labour party, to lead his party to being elected to power in May 1987. This after a gruelling campaign that saw PN gatherings mobbed and attacked several times by the Special Mobile Unit, many of whose members are today still active in the police corps.
Fresh from the years in the opposition benches of Mintoffian rule, Fenech Adami outlined his new policy of reconciliation. The first years of the Nationalist government led to an opening in the economy as trade restrictions were lifted and businesses flourished.
The University that had suffered from a numerus clausus, limiting the number of students admissible to its courses, was fully opened, leading to an exponential growth in the number of graduates leaving Tal-Qroqq.
In foreign policy, Malta's mediocre positioning was quickly shifted.
But Fenech Adami has always preferred consensus to confrontation. When some Nationalist aides considered militancy in response to the thuggery of the eighties he would keep that at bay, although he did not completely control the violent elements in the PN, with the death of Karen Grech and the placing of bombs probably having been the work of Nationalist extremists.
The first legislature
The first Nationalist legislature brought a guarantee of peace and solitude but it failed to confirm many of the electoral promises that had marked Fenech Adami's campaign.
And although he talked of reconciliation many of the boards and posts in government and parastatal companies were awarded not on meritocracy but to Nationalist supporters. He also failed to address the long list of allegations of corruption and political violence that overshadowed his run-up to the 1987 election. Indeed the string of networks have simply reverted and though never reaching the abysmal standards in the eighties are still loud enough to cause concern.
His reluctance to reshuffle the cabinet instilled a sense of continuity in Maltese government but assured fossilisation, lethargy and indecisiveness. He chose not to crush less useful political figures by either packing them off to a faraway embassy or parachuting them as Presidential candidates.
Even the police force which had been the scourge of Nationalist supporters, the changes in it were superficial. And in times of crisis he would continue to stand by officers even in the face of overwhelming disturbing or incriminating evidence. The main culprits continued to run the corps and get promotions.
Perhaps he sensed that decapitating heads would lead to less bridging and more confrontation. His obsession with not confronting the problems at Xandir Malta, later to be known as PBS, led to the establishment of a PN radio – to counter what Nationalist apparatchiks described as a safety-valve for pluralism! And his idea of reconciliation led him to embrace one of the most nightmarish of characters such as the late Ganni Psaila 'il-Pupa', a Labourite bandit who terrorised dozens of innocent people.
Easy victory
In 1992 he was returned to power and in KMB's stead, an unknown quantity hit the road. Most consider that the Harvard university grad with no dress code and sporting a toupé would not give the Labour party a new breath of life. Yet Alfred Sant embarked on a similar if not copycat trail as the one Fenech Adami had in the late seventies when he was appointed as il-Kap.
Dr Sant went about rebuilding the party literally and was helped when he was given the green light to air a TV station.
The mid-nineties saw an economic boom unrivalled in the Maltese Islands, but the spectre of increased taxation led Alfred Sant on a winning path. European Union accession was not yet be a big thing in political campaigning but he went as far as promising that he would freeze Malta's application and replace VAT. And that worked wonders with many perplexed Nationalist voters.
That was enough to erase the Fenech Adami advance and send him back to the opposition benches. It was like a bad dream come true for Fenech Adami.
Back in 1991 he had unveiled his dream of making Malta a European Union member. That would soon turn into an obsession and into a heavily greased machine that triggered a set of events that would dominate the political landscape of the late nineties and the new century.
In 1996, Alfred Sant failed to gauge the Mintoff domino factor in his party. After 22 months he was out. And the ageing PN politician who had been written off by some of his closest of colleagues was back in Castille.
By Mintoff's grace
His third legislature was born on a campaign ironically catapulted by Mintoff's differences with Alfred Sant and to a lesser extent by his own quasi-super Catholic belief that denying European Union accession would result in a mortal mistake for the future of Malta.
And from 1998 until his fourth electoral victory in 2003, Fenech Adami based his political sights in bringing Malta in line for European Union accession. He did this by employing the services of his closest collaborator, Richard Cachia Caruana, seen by many to be behind the Fenech Adami doctrine. A man who is said to have discovered the key to that emotional hold on the Prime Minister.
Soon after his victory in 1998, Fenech Adami's physical disposition was put to the test with heart surgery that effectively led many to believe that he would be soon calling it a day. But his major heart bypass operation was a complete success and yet once again he returned.
Questioned over and over again in the media if he would retire he chose to reply with the same stubbornness of the same French politician he so very much admired, De Gaulle: "I will continue to serve my country as long as God gives me strength."
Credited with changing
In the years 1987 to 2003, Fenech Adami will be credited with changing the face of the country in such a way that will not be easily forgotten but he will also be recalled for stalling the natural course of reform.
On parochialism, politically-driven decisions and political patronage, the Prime Minister has been accused of batting an eyelid on more than one occasion. He has chosen to defend his ministers at all times, even when it was grossly apparent that they had failed to deliver or were somehow connected to shady deals.
His unpretentious but fundamental Catholic views have got in his way when it came to bringing Maltese family and social legislation in consonance with European norms.
The choice he has made to ignore the need to reform Parliament and its functions and to do away with the single transferable vote system means that this much needed change that is linked to our inbred votes-for-favours system, will not go away.
Reluctance to change
Fenech Adami's reluctance to keep the status quo in so many sectors is proof of his conservatism, a trait that the Maltese feel comfortable with. His choice to leave the civil service in its bloated form says a lot about his concept of reform. His soft glove approach to the unions has paid off but at the expense of the country's coffers.
In the run-up to the election he contributed in no small way to relegating efficiency to second division and yet this country moves and works and delivers.
Many say that he attained his apex when on April 16 in Athens he signed Malta into the European club. Others comment that it will be in Dublin on May 1. No one can be sure when Fenech Adami feels that he has done his bit. Someone who has been there that long does not find it easy to climb down from power.
In the next weeks, he will have to decide whether he is to continue. It may be so, it may not, it may be that Fenech Adami was not made to live without politics. Perhaps all this talk of leadership contests are a media distraction. It is difficult to imagine how this 70-year old man who still believes that politics invigorates him will plan his next months. Will he stand down or will he emulate Bourguiba and stay on until destiny allows him?